GMB London Region Save Our Aviation Industry campaign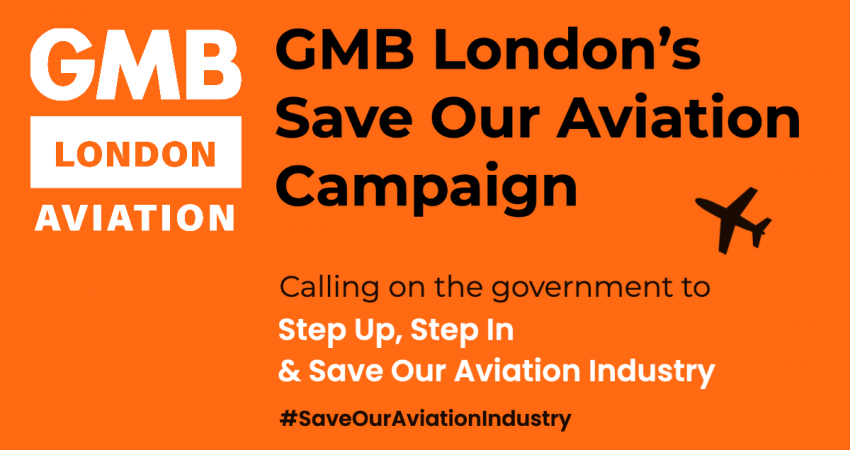 GMB London Region has members at Heathrow, Stansted, Southend, Norfolk and City airports.
Over the last six months of the pandemic London Region has continually reported on the job losses in the aviation industry and supply chain.
If the government does nothing to help it will sentence the aviation industry to a quick death, decimating the airports and tourist industry, local communities and local economies.
GMB is calling on the government to Step Up, Step-In and Save Our Aviation Industry now, with a package to save further job losses by extending the furlough scheme and to give specific support to the aviation industry until the devasting effects of the pandemic subside and airports start flying at near pre-pandemic levels. GMB"s Aviation Strategy is Here. Please sign GMB's petition to extend the furlough scheme for the aviation industry Here.
Some employers have used COVID-19 as a façade to undermine the pay, terms and conditions of many employees working in airports and the supply chain. Making redundancies and offering the same jobs but with worse pay, terms and conditions. GMB London Region says this is completely wrong and we will fight to stop this happening.
Our members deserve better and GMB London Region will fight to save jobs in the aviation industry and supply chain, the government and unions must work together to get through this crisis and plan for the future of the industry. Planes will fly again and aviation will get back to its former glory. As a nation, we all depend on air travel and air transportation, not to mention the occasional holiday abroad.
Join our campaign to save jobs in the aviation industry now– email your MP or local councillor
You can find out who your local MP is Here and your local Councillor/s Here
Please read GMB London Region's Save Our Aviation Industry Charter Here
Back Heathrow Campaign
We are also supporting and working with Back Heathrow campaign, which advocates expansion at Heathrow. The expansion project will generate 180,000 jobs across the UK and 10,000 apprenticeships, underpinned by recognition agreements with trade unions to protect the quality of these roles. Please support the Back Heathrow campaign
Aim High Online — learning that can help improve your skills and knowledge to help you with employment opportunities
Do you fancy increasing your knowledge of English, want to improve on your Mathematics, rusty with IT? As a GMB member, we can help.
Based at London Heathrow Airport and within the London Region, our Life-Long Learning project - Aim High assists GMB members in learning opportunities, and to discover and develop their talents.
Working alongside your local Union Learning Reps (ULRs), we can offer a variety of courses, to up-skill you, to develop the skills you have and to increase your knowledge.
This website is a 'one-stop shop' for your learning needs. https://aimhighgmb.org.uk/
Not a GMB member, not a problem! Joining online is easy, and we may even have reps in your workplace.
Watch our campaign videos:
Your GMB London Region aviation team:
Ken Breach - campaign lead, Ken.breach@gmb.org.uk
Perry Phillips - Heathrow airport, Perry.phillips@gmb.org.uk
Trevlyn McLeod - Heathrow airport, Trevlyn.McLeod@gmb.org.uk
Gary Pearce - Stansted, Southend, and City airports, Gary.pearce@gmb.org.uk
Alan Costello — Norwich airport, Alan.costello@gmb.org.uk
Photographs of our demos held at:
Heathrow airport, with Seema Malhotra, MP and Parmjit Dhanda from the Back Heathrow Campaign
and at Westminster, Downing Street and Transport House.
The London Region Aviation Team are planning further demos at other London regional airports. Keep checking our website page for information.