GMB London Region Save Our Aviation Industry campaign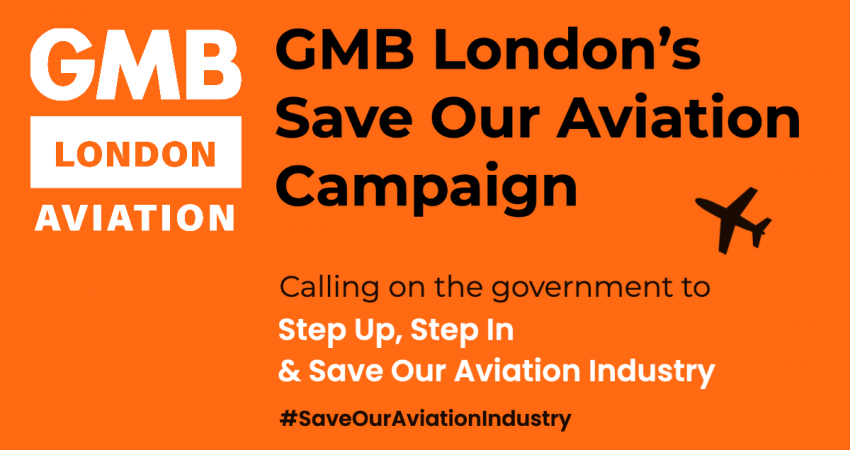 GMB London Region has members at Heathrow, Stansted, Southend, Norfolk and City airports.
GMB London Region has been campaigning vigorously to get the furlough scheme extended and now welcomes the news that the new Job support scheme from 1st November 2020 will give a lifeline to many firms within Heathrow, Stansted, Southend and London City Airports.
With help and support from GMB members and our Aviation branches, the GMB London Region's #Save Our Aviation Industry campaign has been putting pressure on government since the beginning of summer, calling for the extension of the furlough scheme and an industry-specific support package for the aviation industry. GMB London has been ensuring that our members in the industry have a voice that is heard and together with the support and efforts of MP's and councillors who backed our campaign we are now optimistic that the Job Support scheme will save some jobs that might have otherwise been shed at the end of October when the furlough scheme finishes. More needs to be done because we are still concerned that for many members redundancies are still looking very likely as the downturn in demand for air travel and transportation continues.
Many aviation workers across the London airports have had to accept working reduced hours and a reduction in pay, far too many many have already been made redundant. The recent escalation of Covid-19 infections can only mean that the scale of the problem will further delay the revival of the aviation industry. To save jobs and skills vital to the recovery of the aviation industry, government must provide additional targeted support to businesses that are severely impacted by the pandemic.
GMB"s Aviation Strategy is Here. Please sign GMB's petition to extend the furlough scheme for the aviation industry Here.
GMB London is calling on companies within the direct and indirect aviation supply chains to fully utilise the job support scheme and with continual engagement with unions, make sure our members receive a wage that they can live on.
Our members deserve better and GMB London Region will fight to save jobs in the aviation industry and supply chain, we will expose those employers that consciously make bad employment decisions.
Planes will fly again and aviation will get back to its former glory. As a nation, we all depend on air travel and air transportation, not to mention the occasional holiday abroad.
Join our campaign to save jobs in the aviation industry now– email your MP or local councillor
You can find out who your local MP is Here and your local Councillor/s Here
Please read GMB London Region's Save Our Aviation Industry Charter Here
Back Heathrow Campaign
On We are also supporting and working with Back Heathrow campaign, which advocates expansion at Heathrow. The expansion project will generate 180,000 jobs across the UK and 10,000 apprenticeships, underpinned by recognition agreements with trade unions to protect the quality of these roles. Please support the Back Heathrow campaign
Back Heathrow Campaign Update: The plan to build a new runway at Heathrow returns to the courts next week, 7th October. To recap – the plan was scrutinised in Parliament and voted through by a huge majority of 296 MPs, in June 2018. The scheme's opponents then took to the courts until eventually they found a judgement that (in part) agreed with them.
So next week Heathrow will get its chance to explain to the Supreme Court that the new runway can be built – fully compliant to the strict requirements required of it – including climate change targets. GMB will be represented by Perry Phillips who will be present at the Supreme Court.
Aim High Online — learning that can help improve your skills and knowledge to help you with employment opportunities
Do you fancy increasing your knowledge of English, want to improve on your Mathematics, rusty with IT? As a GMB member, we can help.
Based at London Heathrow Airport and within the London Region, our Life-Long Learning project - Aim High assists GMB members in learning opportunities, and to discover and develop their talents.
Working alongside your local Union Learning Reps (ULRs), we can offer a variety of courses, to up-skill you, to develop the skills you have and to increase your knowledge.
This website is a 'one-stop shop' for your learning needs. https://aimhighgmb.org.uk/
Not a GMB member, not a problem! Joining online is easy, and we may even have reps in your workplace.
Watch our campaign videos:
Your GMB London Region aviation team:
Ken Breach - campaign lead, Ken.breach@gmb.org.uk
Perry Phillips - Heathrow airport, Perry.phillips@gmb.org.uk
Trevlyn McLeod - Heathrow airport, Trevlyn.McLeod@gmb.org.uk
Gary Pearce - Stansted, Southend, and City airports, Gary.pearce@gmb.org.uk
Alan Costello — Norwich airport, Alan.costello@gmb.org.uk
Photographs of our demos held at:
Heathrow airport, with Seema Malhotra, MP and Parmjit Dhanda from the Back Heathrow Campaign
and at Westminster, Downing Street and Transport House.
The London Region Aviation Team are planning further demos at other London regional airports. Keep checking our website page for information.