GMB London Region Congress 2022
Congress — Sunday 12 to Thursday 16 June 2022
The theme of Congress 2022 was "Make Work Better" and was a welcome back to a physical venue-based Congress since 2019 and this was our first visit to Harrogate. Congress was chaired by our National President Barbara Plant & Vice President Malcolm Sage.
Penny Robinson, our Regional President lead our 56-strong Regional delegation who were diverse and inclusive with a gender balance of 35 male and 21 female and 10 identified with a disability. Our delegation also included 19 first time delegates. From our delegation, Karen Dudley (Beds County Branch) represented the Region on the Standing Orders Committee (SOC) and was elected as the Vice Chair from amongst her peers.
Contribution Freeze: In line the General Secretary election pledges, the CEC made no contribution increase and membership is still frozen at 2020 levels.
Finance: Congress agreed a CEC Special Report on Branch Commissions setting in stone the decrease of quarterly Branch Commission payments to 7.5% Rule 34.1. This was debated in full with Congress hearing motions for and against this Rule change but the Report was carried so this will be included in the new GMB Rule Book which takes effect from 1 July 2022.
RMA Report: Jan Smith was invited to give a brief verbal update on RMA matters and she thanked and gave a gift to National Office staff and Monica Smith. She also asked the General Secretary to consider having the National RMA Banner as part of the Banner Ceremony
CEC Members: Well done to all our CEC members elected in 2019 as this was their first physical Congress and all spoke: Penny Robinson, Dean Gilligan, Sarah Hurley, Robbie Scott, Shailesh Gagliani, Rachael Hookway and Gary Harris.
Debates: We were pleased to see BSL sign language signers back at Congress and our Motion was carried for all GMB key events and Conferences to consider/ include this facility.

No one can ever say that London Region does not give it our best shot. We have a proud history of challenging the CEC/Reports especially where we feel the Regions position is the correct one
London Region ensured we had a speaker on each of the CEC Special Reports and Statements and we spoke in nearly every key debate. We tried to ensure that all delegates spoke at least once especially first time delegates
Of the 155 Motions debated, 67(43%) of these came from London Region

Of the 155 Motions debated, 67(43%) of these came from London Region
GMB CONGRESS 2022

TOTAL in Final Agenda

Out of Order

Withdrawn

Existing Policy

Motions debated

Final Agenda (including 17 Composite motions)

Of which are from London (LO)

217

82 from LO

7

28

7 LO

30

10 LO

152

65 from LO

Emergency Motions

2

2 LO

2

2 LO

CEC Rule Amendments

1

1

220

7

28

30

155

Unfortunately, Congress was suspended on the last day where there was one International Motion (from London Region) and a CEC Statement on the Ukraine so sadly, these were not debated.
The following CEC Reports were carried:
• General Secretary's Report

CEC Statements
• CEC Statement on the Cost of Living

CEC Special Reports
• CEC Special Report- Women's Campaign Unit
• CEC Special Report- Task Force for Positive Change (update for Congress)
• CEC Special Report- The Future of Work
• CEC Special Report on Branch Commissions (containing Rule amendment to Rule 34.1)

CEC Rule Amendments
• CEC Rule Amendments replacing Rules 5 & 6
Emergency Motions
There were only 2 Emergency Motions agreed by the SOC, both from London Region and both were carried by Congress
EM1 Terminal Chaos (A37 Aviation Branch)
EM2 Oppose Refugee deportation to Rwanda (London Central General Branch)

Bucket Collection
London Region was chosen as one of the three bucket collections of Congress and was in aid of the PAPYRUS charity in support of the prevention of young suicide as suggested by the Kings Lynn Branch. The collection at Congress raised £594 www.papyrus-uk.org
Guest (and inspirational) speakers
Instead of Guest speakers there were two Q&A sessions, one with Rachel Reeves MP where Viv Thomas, London Region delegate asked
"What is the Labour Party doing to support WASPI women born in the 1950s. I have been robbed of 6 years of state pension. For the thousands of other women this will have a detrimental financial impact on them for the rest of their lives."
The other Panel Q&A session was with employer representatives from Gig platforms and Mike Tinnion, London Region delegate asked:
"We applaud the ground-breaking agreements with Uber, Evri and now Deliveroo. Can you tell us, that in order to make precious employment work, is the way forward sectoral collective bargaining?
There were two inspirational speakers from our members: Tommy Dawkins from Birmingham Region spoke on how the Union helped him with basic literacy skills and Marek Krolic from North West & Irish Region emotionally recounted how the Union had saved him from a modern slavery situation and how he had become a disability rep.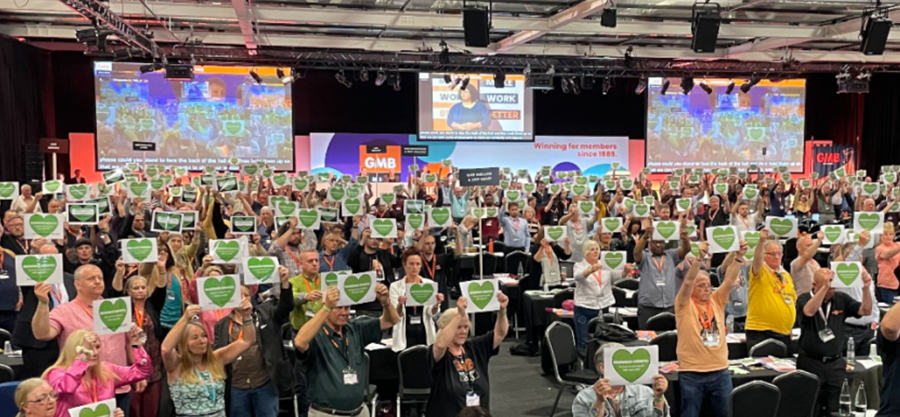 As the 5th anniversary of the Grenfell disaster fell during Congress (14 June), London Region provided all delegates with posters which were raised during a minute silence. London Region posters featured the names of the 72 known victims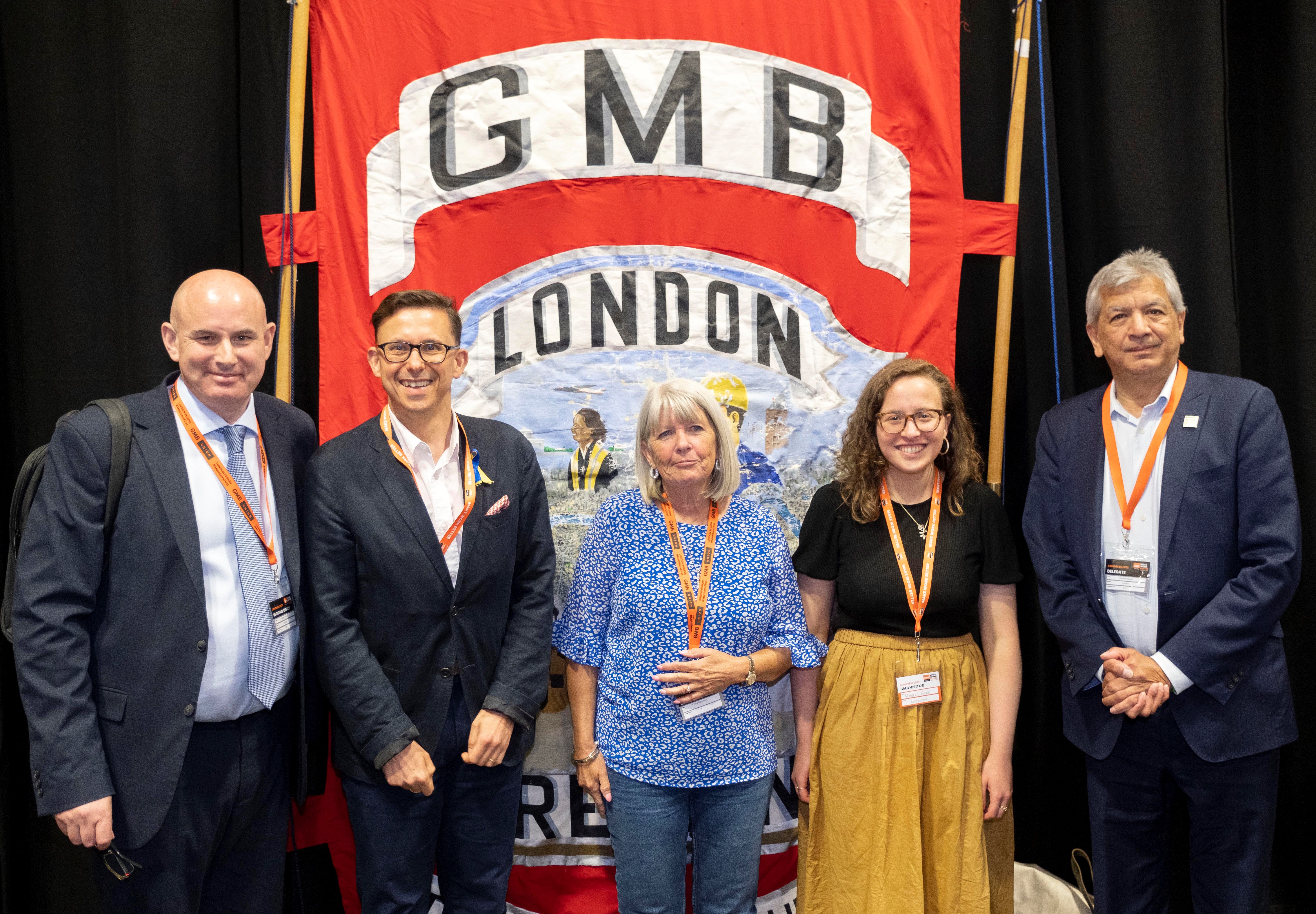 Fringe Event
London Region had one Fringe event on Tackling Antisemitism chaired by Penny and speakers were Gary Smith and Mike Katz and Rebecca Filer from the Jewish Labour Movement (JLM) Following Congress, Mike and Rebecca will be rolling out awareness training to GMB staff and Branches.

Press & media
London Region had a lot of media attention and issued Press Releases directly linked to our regional Motions included
• Sky news live interview on cost of living & effect on drivers (Mike Tinnion: Professional Drivers Branch)
• Employment Status of HM Coastguards
• Driver Dignity
• Antisemitism
• London Living Wage for Aviation workers
• Halt the Rwanda refugee deportation flight
• Cost of Living Crisis: Teaching Assistants (and others) using foodbanks
• Justice for Grenfell
The Region featured heavily on social media and we also captured some video clips of delegates describing their experiences which can be shared by their Branches.
Congress sessions are available on GMB YouTube www.gmb.org.uk/CongressTV and you can access documents and reports on the National GMB website .
Staff
This Congress marks the last attendance of Chris Bargery, Regional Secretary's PA and our Regional Political Officer, Vaughan West who are retiring and both long-serving staff members.
What happens now
As Congress was suspended on the last day, a report on the remaining items will go to the July 2022 CEC Political, European and International Committee and then be ratified by the September CEC Meeting. Key Congress Documents can be found on the GMB National website. https://www.gmb.org.uk/democracy/gmb-congress

We will circulate a Decisions of Congress document to Branches once received. The CEC will then agree which Department/Section will progress each of the Carried and Referred motions and Reports and this will also be shown on the website. As there were some Rule Changes the new GMB RuleBook will be available on the website and will take effect from 1 July 2022. www.gmb.org.uk/rulebook
| | |
| --- | --- |
| | |
| Warren Kenny | Penny Robinson |
| Regional Secretary | Regional President |

For info, Congress 2023 will be in Brighton from Sunday 4 June 2023 and will be a Rule Change Congress
A snapshot of reactions from some of London Region's Delegation to Congress 2022 in Harrogate.
GMB Congress is held annually and it is where the lay member ruling body of the union decides GMB policy on all issues. GMB Congress 2023 will be held in Brighton, commencing Sunday 4th June 2023.
This is how to get involved if you want to attend GMB Congress or put forward a motion to make GMB policy. To attend you must be nominated by your branch, and be a paid-up member for 53 weeks.
Every GMB branch may nominate a member for election and appointment to represent the Region at Congress and these nominations must be received at the regional office by 31 December each year. Voting by branches for the election of Congress delegates is held during January and February. Close of voting is on 28 February each year.
You can use this form below to register your interest in being a delegate to Congress 2023
---