ISS staff and Mayor of Hackney blocked from delivering Christmas card at Homerton Hospital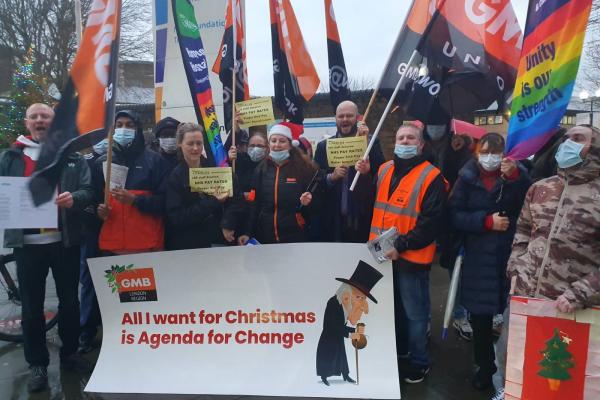 No room at the inn as Mayor, Vicar and cleaners blocked from delivering Christmas card asking for sick pay to Homerton Hospital
We shocked at the animosity shown to the hospital cleaners, the Mayor and community leaders says GMB London
GMB, the union for hospital workers, were left shocked yesterday (17th December) after ISS staff, the Mayor of Hackney, Philip Glanville and community leaders were blocked from delivering a Christmas card signed by over a two hundred NHS staff members with a combined service of 2000 years to the CEO of Homerton Hospital.
ISS staff had been protesting outside Homerton Hospital due to them not receiving paid sick pay for the first three days of illness, forcing staff to work even when they are ill. The company also refuses to pay anything other than government minimum of £94.25/week (£3.43/hr for full-time workers) to staff who've worked in the hospital for years.
After a select group of ISS workers along with Mayor Glanville and Reverend Graham Hunter approached the hospital to present the card, which called for the CEO to consider bringing ISS staff back-in house, and for the basic dignity of fair terms and conditions, they were quickly turned away by security.
However today (18th December), Reverend Graham Hunter joined GMB representatives in successfully delivering Christmas cards to Homerton University Hospital NHS Foundation Trust board members at their meeting.
Lola McEvoy, GMB NHS organiser said:
"I'm shocked at the animosity shown to the hospital cleaners, the Mayor and community leaders. We organised a Christmas Card to be signed by over 200 NHS staff with a combined service of 2000 years asking for the cleaners and porters to be brought back in house so they can receive sick pay.
"We gained support from a broad based alliance of local communities and the Mayor who were subsequently refused entry to deliver the card, this disproportionately heavy handed response to our members and people in public life raises serious concerns for the GMB Union about how our members are treated when they're not under the spotlight. A really Scrooge reaction to our Christmas carolling, no room at the inn and not a stable in sight.
"GMB will be back next year continuing to request to meet the CEO and righting this wrong for heath workers. We wish the staff at Homerton a Happy healthy Christmas, see you in the new year."
Reverend Graham Hunter, Vicar of St John's Hoxton and a leader for Hackney Citizens said:
"I was really surprised to be refused entry to the Homerton Hospital - we were only there to deliver a Christmas card and a letter to the directors of the hospital asking that the outsourced domestic and ward staff be given fair employment conditions.
"Hackney Citizens stand with the ISS workers at the Homerton Hospital, and it was surprising for a Church of England Vicar and the Mayor of Hackney, Phil Glanville, to be turned away!"
Philip Glanville, Directly elected Mayor of Hackney said:
"It is disappointing that ISS staff were not even allowed to deliver a Chirtsmas card to their own workplace. I am disappointed for the ISS staff members that were with me and Rev Graham Hunter, who lost their opportunity to raise concerns in a positive way. This goes against the fine traditions of public service: valuing your workforce, protecting their rights and rights to protest.
"But I am still determined to work with the Homerton Hospital to get a fair deal for facilities management staff. The Homerton is a fantastic community hospital that is helping our most vulnerable residents from across the borough. Surely facilities staff who keep the hospital clean and ensure the safety of patients, contribute to that excellence just as much as doctors and nurses?"
ENDS
Contact: Lola McEvoy 07967 440297 or GMB London Press Office 07970 114762