Posthumous Award for Richard O'Leary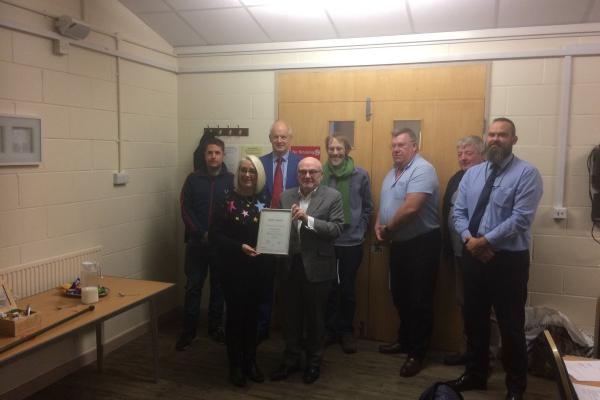 GMB London Region Officers, Gary Doolan and Richard O'Leary, receive posthumous Labour Party Awards.
At a recent Eastern Region Labour Party Conference at the end of October, two of our GMB London Region Officers who recently sadly passed away, Gary Doolan and Richard O'Leary, we're posthumously honoured with Labour Party Merit Awards.
Unfortunately, neither of their families were able to attend the conference, so the awards were accepted on their and the GMB's behalf by Vaughan West, GMB London Region, Acting Political Officer and Chair of the Regional Labour Party.
On Tuesday 21st November Vaughan had the honour and pleasure of attending Richard's Branch, Cambridge Number 1, to present Richard's wife Joy with the award on behalf of the Party.
Richard Lewis, Labour Leader of Cambridge City Council was also there, along with branch activists past and present, and it was a great opportunity for many stories and reminiscences of Richard's work for the GMB and the wider movement from his time at Cambridge, through to the Region, Party and Unions Together (the Union/Party liaison organisation).
Richard is sorely missed but will never be forgotten.
We will be arranging a similar event in the near future to present Gary's family with his award.