Cambridge resident given GMB Health & Safety Award at GMB Congress in Plymouth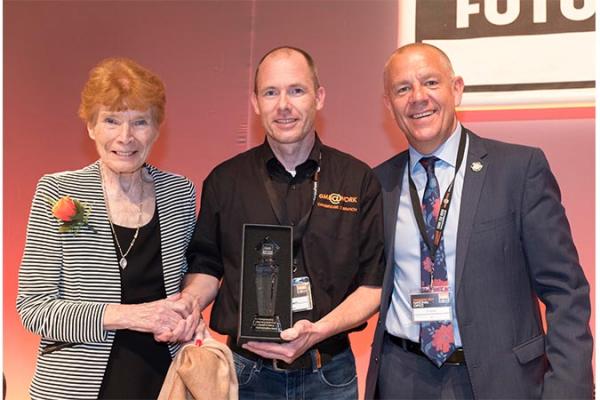 Cambridge resident given GMB Health & Safety Award at GMB Congress in Plymouth
It is a great achievement by Lee Hillam in being recognised for his initiative in designing a worker involvement tool for the Waste Industry says GMB
Cambridge resident Lee Hillam received the prestigious GMB Mary MacArthur Health and Safety Representative of the Year award for his work at the national level with HSE on improving safety and worker involvement in the waste and recycling sector at GMB Congress today (Sunday, 4th June 2017) in Plymouth.
Lee designed a worker involvement tool for the waste industry which has been adopted by the HSE's WISH (Waste Industry Safety and Health) Forum.
One of the runner-ups for the award was Helena Sharpe, GMB London region, for her response when her Asda store in Luton caught fire and was severely damaged, particularly in the support and advice she provided to her colleagues.
The overall and runners up award were presented by Mary Turner, GMB National President, on Sunday 4th June.
The 100th GMB Congress, comprising of 500 elected lay members and 300 visitors and guests, started today (Sunday 4th June) and runs until Tuesday 6th June at Plymouth Pavilions. GMB Congress delegates were elected from the GMB membership to represent over 640,000 members from every part of the UK and Ireland and every sector of the economy. Congress is the supreme policy making body in GMB.
Warren Kenny, London & Eastern Regional Secretary, said
"It is a great achievement by Lee in being recognised for his initiative in designing a worker involvement tool for the Waste Industry which has now been adopted by the HSE's Waste Industry Safety and Health Forum.

"Lee used his experience to organise staff within the Shared Waste Service between Cambridge City Council and South Cambs District Council and by doing so played a critical role in ensuring proper oversight whilst developing new guidance for Waste staff.

Using his experience and initiative, Lee facilitated a workshop on employee involvement at the 2016 WISH Conference and from this developed a worker involvement tool for the Waste Industry and Recycling Sector. Organising and raising standards in a dangerous Sector such as Waste is a credit to Lee's commitment to keeping our members safe."

On Helena:

"When fire broke out at the ASDA Luton store on the afternoon of Monday 6th March 2017, GMB Workplace Organiser Helena Sharpe was on her day off, however, upon hearing the devastating news she was immediately available to support GMB members and staff at her store.

Working alongside GMB staff and Officers, Helena set up and run a support centre at the local GMB Luton office. Throughout the day over 30 colleagues attended the GMB office for advice and support with 15 new colleagues joining GMB for support in these uncertain times. Helena also responded to hundreds of members questions via the GMB ASDA support centre on the days following the fire.

Helena, who has been a GMB member since 2007 and a GMB Steward for just over 2 years, continues to support members for the ASDA Luton store, which is due to reopen within 8 weeks. She also assists and advises fellow GMB Stewards within the region.

Helena works tirelessly for GMB members in Asda and across the Region. She is truly inspirational and a credit to GMB London Region.
ENDS
Contact: Warren Kenny on 07843 632394
Notes to Editors
Photographs are available from Andrew Wiard Photographer on andrew@reportphotos.com