Edwardian May Fair Hotel Union Dispute Continues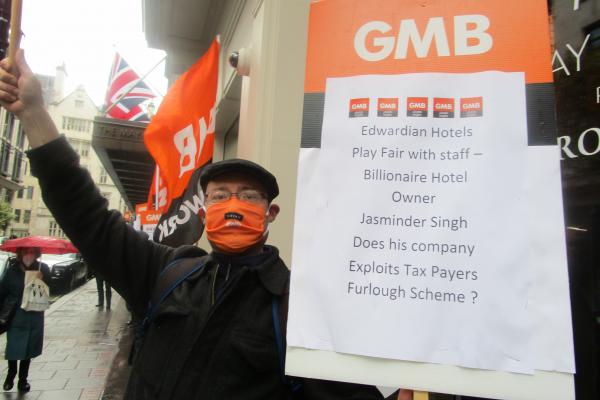 GMB London will continue to hold protests against the Edwardian Hotels over the hotel telling its furlough staff to take their leave whilst furloughed, despite the new law introduced by the government that allows workers to carry over up to four weeks holiday into their next two holiday years.
GMB, the union for hotel and catering workers will hold a second protest outside the Edwardian May Fair Hotel part of the Radisson Collection in Mayfair, Central London because staff working at the hotel have been told that they must take their holiday during furlough when the hotel are collecting up to 80% from the taxpayer.
GMB London has been told that whilst being paid by the government furlough scheme Edwardian bosses have told staff that they must take their accrued holidays whilst on furlough and that some staff have been told to accept a 50% reduction in hours of work. Staff who do not agree to the reduced hours face dismissal. Furthermore, new contracts do not guarantee them any work at all.
A protest will take place outside the May Fair Hotel at lunchtime on Thursday the 10th of December and at 7.30 am on Friday the 11th of December and will continue until the hotel management rescinds the instruction for workers to take their leave during furlough and other the other contractual changes they are imposing.
May Fair Hotel
12.00 - 2.00 pm Thursday the 10th of December
Stratton St, Mayfair, London W1J 8LT
Michael Dooley, GMB London Region Organiser said:
"We all know the problems the hotel and catering industry is facing, but the current problems should not be used by employers to make life harder for their staff by telling staff to take their holidays when the employer is using 80% of taxpayers money to pay them, and introducing new contracts that reduce the staff working week by 50% which if they do not agree they are dismissed. Many hotels are doing the right thing why can't the Edwardian Group? We feel that our cause is fair and right so we will not go away into the night but will stay and do all we can to highlight these shabby unfair practices"
GMB calls on the Edwardian Hotels to take the right course of action to withdraw the instruction to its furloughed workers that they must take their leave whilst on furlough and negotiate with GMB on options to avoid 50% cut in hours and the zero-hours contracts.
Contact:
Michael Dooley, GMB London Region Organiser 077 7306 1798 or michael.dooley@gmb.org.uk
Editor's notes:
GMB London Press release, 20 October 2020
GMB London - Edwardian Hotels in the Firing Line over Holiday Dispute