Exposed: Teaching assistants earning below minimum wage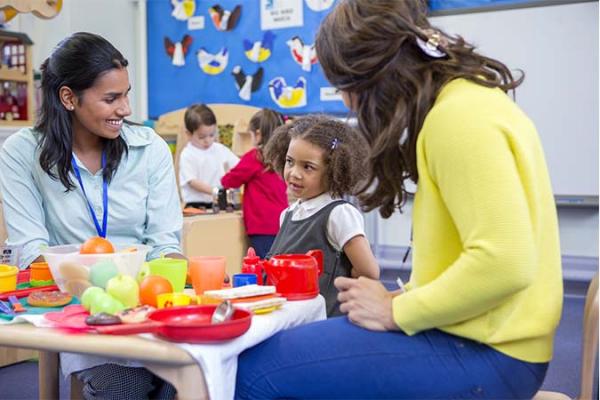 GMB union members in London gear up for action as internal memo reveals NLW pressures
School support staff receive no pay for 8 weeks of the year pushing them below the National Living Wage as an hourly rate – with Teaching Assistant's earning an average £8.35/hour
In a letter to Local Authority Chief Executives, seen by GMB London – the national body for schools and local government pay ('The Employer') flag worries about meeting the legal wage floor.
Mary Goodson, a GMB activist and TA in Barnet, London said:
We've reached boiling point – we've been pushed and pushed and our goodwill and love for the kids has been taken advantage of. Some things just switched and people can't and won't put up with it. We just want to do a good job for the kids – but if 1/3 of us are looking to food banks and people can't fill their car up — what choice do we have but to fight for better?
Keith Williams, GMB London Senior Public Services Officer said:
"Our members have had enough. As the country prepares for the hottest summer of industrial action in a generation – School Support Staff in London are gearing up for a big fight. The staffing crisis, low wages and the cost-of-living crisis - it's too much and they can't stretch their pay packet any further.
"They've been put-upon, over-burdened and underpaid for a decade and the unpaid 8week break makes their hourly pay just won't cut it with this Cost-of-Living crisis.
"In 2019 the Employer introduced a new pay scheme designed to "get ahead" of the National Living Wage so it is shocking to see that they're not even confident of meeting the legal wage floor.
"Any offer from the Employer must be in excess of making sure they are abiding by NLW legislation that comes into effect in April next year. Our members have got wise to this Government's waffle and spin and they simply won't put up with being paid the legal minimum. People are angry – and rightly so.
"The Government and the Employer owe public sector workers and contractors a cost-of-living pay rise. Working people cannot keep picking up the bill through reduced services and reduced wages.
"There now has to be proper recognition of the dire situation our public service due to years of Tories cuts and this cost-of-living crisis makes it even more urgent to address the low wages of key workers."
Lisa Bangs GMB London Schools Lead said:
"Our members in schools are paid below the National Living Wage per hour because they are unpaid for 8 weeks of the year. It's impossible for them to get another job in the holidays, and the majority of them have children to look after too - so they're turning to food banks.
"These skilled key workers provide vital support to some of our most vulnerable children and in doing so enable all children to get the best from their education. For too long they have been undervalued and underpaid and they have had enough. Central Government must step up and properly fund a pay rise for key workers if it is to improve morale and prevent adding further to the recruitment crisis in our schools."

Press: 07967440297 Broadcasts interviews available
Notes to editors:
Further context
The problem of low wages is made worse in Schools because of Term Time Only Contracts which mean staff only receive pay for 44 weeks a year.
The average Level 3 Teaching Assistant earns less than £14,000 per year and this works out at about £8.35 an hour over the course of the year.
This means that because their wages get spread over 52 weeks, their hourly rate equates on average to £8.35 per hour which is far less than the National Living Wage
When the National Living wage increased to £9.50 per hour in April, some Local Government and School workers became National Living Wage workers.
Now the Employer has admitted in a letter to Chief Executives in England, Wales and Northern Ireland "the challenge we face from the proximity of the National Living wage (NLW) to the bottom of the NJC pay spine". LINK: 2022 National Pay Negotiations | Local Government Association
"The problem for the NJC is caused less by in-year comparisons but more the practicalities of when the government announces the increase to the NLW for each forthcoming April (usually in October / November) and the NJC's negotiating timescales, which, as is currently evident, almost always run past the usual implementation date of 1 April due to the timing of the local government funding settlement, trade unions' pay claim, the consultation process and sometimes the electoral timetable.
Even if we were to do just the bare minimum required to simply remain compliant with NLW legislation and allowing for forecasts to jump again beyond the LPC's latest projections, but nothing else (in terms of a 'normal' pay award), we would need to do the following:
• A bottom rate of £10.50 in 2022 would require deleting SCPs 1-5
• A bottom rate of £11.50 in 2023 would require deleting SCPs 6-10
• Not allowing for any increase on any other SCPs or any restoration of differentials
This would result in:
• 35 per cent of the entire FTE workforce on the new bottom pay point
• Cost in the region of £366m (2.41 per cent on national pay bill) over the two years from 2022"
Further context:
Years of austerity, pay freezes and below-inflation pay rises are now resulting in hard-working key workers being paid the National Living Wage. In Schools though, because staff only get paid approximately 44 weeks a year, it means many are earning less than the National Living Wage.
The average Teaching Assistant earns less than £14,000 per year and this works out at about £8.35 an hour over the course of the year.
Given that the new rates of NLW are paid in April each year, the Local Government Employer is aware that if they do not properly increase pay for the lowest earners this year, they could fall foul of National Living Wage law in April 2023.
The NLW is forecast to be between £10.14-£10.50 next April and yet the current starting hourly rate is only £9.50. GMB's position is that just increasing to meet the requirement of National Living wage legislation is not enough.
Morale in the public sector, especially in schools, is at an all-time low and it is scandalous that the Government is allowing key workers to be paid less than the Real Living Wage of £9.90 per hour.