GMB and Labour Party slam decision to move Welwyn Garden City taxi rank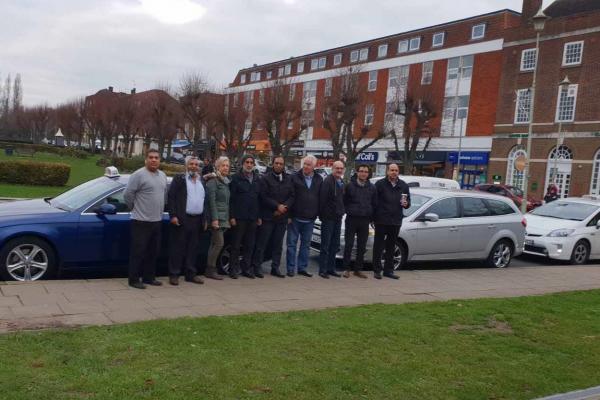 GMB Union and Labour Party slam Welwyn Hatfield Council decision to remove taxi rank outside Howard Centre in Welwyn Garden City
The decision to move the well-known rank that is a community institution based on half-baked and unproven data shows a contempt for the drivers and the public, says GMB London
GMB Union, the union for taxi and Private Hire drivers, and the Labour Party, have written to Welwyn Hatfield Council, slamming their decision to remove the taxi rank outside the Howard Centre in Welwyn Garden City.
The council's reasons for removing the rank included noise pollution. However, GMB have questioned whether the plans to move the rank to a nearby junction is any better. There are also safety concerns having the new rank across a busy road, especially for the disabled.
The removal of the rank, which has served the community for 45 years will hit the incomes of taxi drivers, result in customers waiting longer and risk public safety.
Steve Garelick, GMB Regional Officer said:
"Beyond the council staff making backroom deals with Uber who do not contribute licensing and enforcement fees to the area let alone to the local economy, the decision to move the well-known rank that is a community institution based on half-baked and unproven data, shows a contempt for the drivers and the public.
"It is clear the council's officers are steering their own course based on their decision to ignore our requests for responses for over a month."
Rosie Newbigging, Labour Candidate for Welwyn Hatfield said:
"I fully support Welwyn Hatfield hackney carriage drivers in their campaign to keep the taxi rank where it is.
"It makes no sense to get rid of it. It will create a public safety risk with people forced to cross a busy road to get a taxi - particularly for people with disabilities and elderly people. It will also mean people have to wait longer for taxis as the remaining rank by the shops will take fewer taxis. And it will hit the livelihoods of our local taxi drivers.
"This is another nonsensical proposal from Tory run Welwyn Hatfield Borough Council. A Labour led Council will put an end to this nonsense. People can vote out the Tories in local elections in May."
ENDS
Contact: Steve Garelick 07967 763980 or GMB London Press Office 07970 114 762