GMB calls on Heathrow to make airlines and indirect contractors pay London Living Wage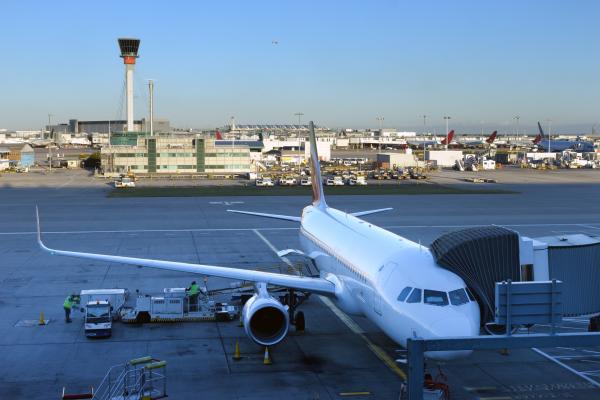 Airlines and third-party contractors are refusing to follow Heathrow commitment to pay its workers London Living Wage of £10.75 at the Airport says GMB London
GMB, the union for Heathrow staff, is calling on Heathrow Airport to make it a condition of operating at the airport that airlines and contractors within the indirect supply chain to pay the London living wage of £10.75. The airport and the airlines are very profitable and able to afford to pay this rate of pay.
According to accounts released by Heathrow Ltd, 2019 was the busiest year in Heathrow's history, bringing in 80.9m passengers, a climb in revenue of 3.4% per cent to £3.1bn. It had £546million pre-tax profits. It has a strong balance sheet following £12bn from private investors.
Perry Phillips, Regional Organiser for Aviation and Heathrow, said:
"GMB campaigned for and welcomed the airport's announcement that all contracted staff working within the direct supply chain at Heathrow will be paid the London Living Wage of £10.75 per hour in 2020,
"As a result of GMB's campaign it is pleasing to see that many workers within Heathrow's direct supply chain such as Terminal cleaners, wheelchair assistance PRM's and some direct security contracts will be getting the London Living Wage of £10.75 per hour this year.
"Airlines and their service providers are not prepared to commit to Heathrow's London Living Wage commitment to pay a living wage to their workers. This is a disgrace. GMB members and staff at the airport have made Heathrow a financial success and should be rewarded with a living wage and decent terms and conditions.
"Aircraft cleaners, airline catering and security and many other workers are still struggling on poverty wages and are finding it difficult to make ends meet despite being on the front line to keep the airport safe and clean and to provide a first class service to passengers.
"Year on year Heathrow continues to make blockbuster profits and both Heathrow and the airlines are also dripping in money.
"However, aircraft cleaners will be stuck on poverty wages as airlines at Heathrow are refusing to pay a liveable wage which is an outrage and disgusting.
"GMB Is calling on Heathrow to put the pressure on by changing the contractual rules for operating at the airport so that the airlines and their contract partners, to make sure their workers are all paid the London living wage as a minimum. "