GMB London calls on govt to add local dimension to new industrial strategy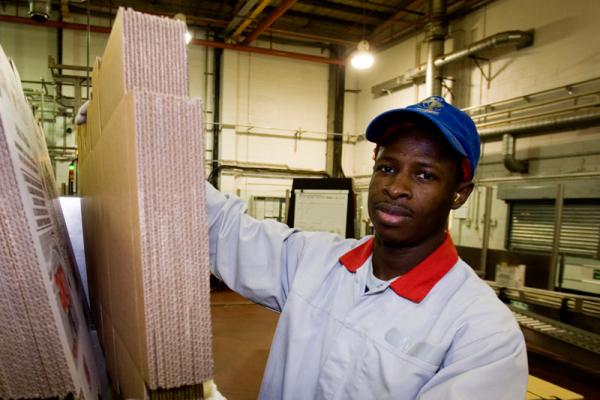 GMB London calls on Government to add local dimension to new industrial strategy as study shows 16 areas in London falling below UK average for economic prosperity.
It is essential that Government recognises that there has to be regional and geographical dimensions to any successful industrial strategy says GMB London.
GMB London region responded to the publication earlier last week of the new Government industrial strategy. [See notes to editors for copy of the press release from the Department for Business, Energy & Industrial Strategy].
GMB London region has published figures for all London boroughs which show the different levels of economic activity by the working age population across the capital.
In Wandsworth 85% of the population aged 16 to 64 are economically active. This is the highest in the capital. The next 5 are Richmond upon Thames with 84.6%, Lambeth with 83.6%, Bexley with 83.3%, Southwark with 83% and Merton with 82.8%.
By contrast the lowest are Kensington and Chelsea with only 71.7% of the 16 to 64 year olds who are economically active, Barking and Dagenham with 72.3%, Camden with 73.2, Westminster with 73.7% and Hackney with 74%.
The London economic activity rate is 78.3% and the overall UK figure is 77.7%. London is the fourth highest in the UK behind the South West at 80.8%, South East at 80.6% and Eastern at 79.9%.
The table below has the figures for all 33 London boroughs. See notes to editors for sources and definitions.
Annual Population Survey - Oct 2015-Sep 2016
Economic activity rate - aged 16-64
number
%
United Kingdom
31,839,800
77.7
London
4,630,300
78.3
rank
1
Wandsworth
193,200
85.0
2
Richmond upon Thames
107,000
84.6
3
Lambeth
203,300
83.6
4
Bexley
126,900
83.3
5
Southwark
186,200
83.0
6
Merton
113,400
82.8
7
Sutton
106,000
82.4
8
Croydon
201,800
81.8
9
Havering
126,700
80.8
10
Lewisham
169,100
80.3
11
Waltham Forest
145,200
79.8
12
Greenwich
146,500
79.4
13
Bromley
159,700
78.8
14
Hammersmith and Fulham
98,900
78.5
15
Ealing
176,400
78.2
16
Hillingdon
154,800
78.0
17
Tower Hamlets
172,700
77.9
18
Barnet
192,500
76.6
19
Haringey
148,500
76.6
20
Hounslow
140,300
76.5
21
Harrow
122,200
76.5
22
Islington
129,800
76.3
23
Newham
176,400
76.0
24
Kingston upon Thames
89,500
76.0
25
Redbridge
147,300
75.5
26
City of London
7,300
75.1
27
Brent
164,700
74.9
28
Enfield
159,100
74.9
29
Hackney
146,200
74.0
30
Westminster
123,100
73.7
31
Camden
124,700
73.2
32
Barking and Dagenham
92,600
72.3
33
Kensington and Chelsea
78,200
71.7
Warren Kenny, GMB London region secretary, said
"GMB London region welcome the recognition by the Government that it, on behalf of the citizens, has a role to play in supporting and promoting an industrial strategy to lift economic growth and prosperity in all boroughs of the capital.
As the table above shows there are parts of the capital where the levels of economic activity by the work age population is way below the levels of some of the more prosperous parts of the capital. This lower level of economic activity is linked to the relative decline in the economies of these areas.
GMB London region is ready to work with all the players across the region to input into Government plans to develop viable industrial strategies for each area.
We need London boroughs and elected political figures to take initiatives to bring together employers, unions and educational bodies to feed into this process.
It is essential that Government recognises that there has to be regional and geographical dimensions to any successful industrial strategy. GMB consider this to be essential to bringing the economies of all parts of the capital up to the level of the most prosperous parts."
End
Contact: Keith Williams 07710 631339; Shaun Graham 07885 706556; Tony Warr 07710 631336
Notes to editors:
1) Department for Business, Energy & Industrial Strategy Press Release on 'Building our Industrial Strategy': beisgovuk.citizenspace.com/strategy/industrial-strategy/?utm_campaign=gov&utm_source=gov.uk&utm_medium=referral&utm_content=homepage
We want to build an industrial strategy that addresses long-term challenges to the UK economy. Our aim is to improve living standards and economic growth by increasing productivity and driving growth across the whole country.
This green paper sets out our vision for a modern industrial strategy and some early actions we have committed to take. It aims to start a genuinely open and collaborative conversation about the skills, research, infrastructure and the other things we need to get right to drive long term growth in productivity.
The green paper sets out how we propose to build our industrial strategy. It is not intended to be the last word, but to start a consultation.
We hope anyone with an interest will respond. We welcome your comments as part of a broad discussion on the approach and ideas we have set out, in order to make the industrial strategy effective in delivering an economy that works for everyone.
2) Source: Annual Population Survey from the Office for National Statistics. Annual Population Survey is residence based and a continuous household survey covering the UK.
The data is for the economic activity rate of those aged 16-64. Economically Active people are those either in employment or unemployed.
The APS is the source recommended for employment-related statistics, such as estimates of the number of people in employment or unemployed.