GMB London calls on investigation into ambulance response time changes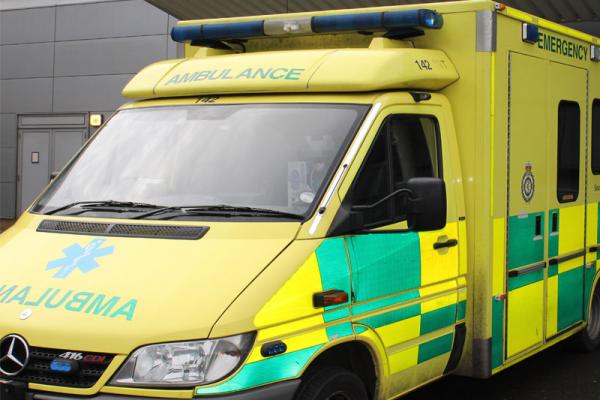 GMB London calls on Secretary of State for Health and East of England Ambulance Service to investigate if ambulance response time changes were a factor in death of Essex patient
When people in an emergency call for an ambulance it is absolutely essential that a properly staffed ambulance turns up on time, says GMB London
GMB London have commented further on the death of a patient in Essex. [See notes to editors on previous GMB release from 5 Jan 2018]
Warren Kenny, GMB Regional Secretary said:
"In 2010 GMB expressed serious concerns that the then watering down of the ambulance response time targets could have serious implications for patient safety. The union back then expressed concern that the changes could lead to patients dying. [See notes to editors for GMB release from Dec 2010]
"Subsequently in 2017 there was a further watering down of the targets, which were not universally welcomed. Under the new system, call handlers time to assess a patient over the phone increased from 60 seconds to four minutes.
"In light of the terrible case that GMB brought to light on Friday 5th January, GMB are calling on the Secretary of State for Health Jeremy Hunt, and East of England Ambulance Service to investigate whether these changes to ambulance response times were a contributory factor leading to the death in Clacton.
"As GMB said in 2010, when people in an emergency call for an ambulance it is absolutely essential that a properly staffed ambulance turns up on time.
"This case in Essex needs to be thoroughly investigated. It is equally not helpful for managers in the ambulance service to try to restrict information from getting into the public domain, as some of our people on the ground think might be happening.
"This is not helpful and management must make clear that they are in favour of transparency."
ENDS
Contact: Dave Powell 07710 631 349 or GMB Press Office 07970 114 762
Notes to Editors:
1] GMB Press Release - GMB concerned with ambulance failings (5 Jan 2018)
81-year old woman found dead in Clacton on 2nd January by ambulance crew who arrived at her property nearly 4 hours after she called 999 with chest pains
This case is much more widespread than the public is aware of, says GMB London
GMB Ambulance crews in the East of England are seriously concerned that the NHS are not coping with the winter pressures after a crew found an 81-year old woman dead at her property in Clacton nearly 4 hours after she had called 999 saying that she was suffering from chest pains.
Dave Powell, GMB Regional Officer said:
"Despite Theresa May's denial. My concern is now that we are actually suffering deaths whilst people wait for ambulances.
"On Tuesday 2nd January an ambulance crew local to me attended to an address in Clacton for an 81-year old lady that had waited nearly 4 hours for an ambulance who had active chest pain. On arrival, the crew had sufficient concerns to force entry to the property as the control room could not contact the patient via telephone. Unfortunately, the patient was found deceased in the property and there was nothing the crew could do for her.
"The matter has been raised internally as a serious incident and is another example of how we are not coping.
"I'm sure this case is much more widespread than the public is aware of."
ENDS
Contact: Dave Powell on 07710 631 349 or GMB Press Office on 07970 114 762
2] GMB Press Release (Dec 2010)
GMB SHOCKED THAT GOVERNMENT PLANS TO SCRAP 19 MINUTE AMBULANCE RESPONSE TIME TARGET
Scrapping the 19 minute target means that the ambulance service will now become like the police service and people will just have to wait until they turn up if they turn up at all
GMB, the union for ambulance staff, commented on reports that tomorrow the Tory/Liberal Government will announce that it is planning to scrap the 19 minute target for ambulance response times.
Justin Bowden GMB National Officer for the ambulance service said "This is an absolute disgrace. I have to say I am shocked. It opens the way for cuts in the service.
When people dial 999 for medical help they should have some guarantees they will get it. Scrapping the 19 minute target means that the ambulance service will now become like the police service and people will just have to wait until they turn up if they turn up at all.
GMB members would like to know why the Liberal party is doing nothing to stop the Tories dismantling our public services.
There are concerns that scrapping response targets are the thin end of the wedge which will lead to a deterioration of the service if the proposals for NHS reorganization in England, set out in a White Paper by the Tory Liberal Government are also implemented. The White Paper proposals will result in GPs being put in charge of budgets and could lead to NHS Ambulance Trusts being starved of the resources they need to meet performance targets to deliver a decent service to patients.
The only way that the annual 13 million emergency calls and urgent patients' journeys can be responded to in time by ambulance staff and paramedics so as to deliver a proper service to patients, is with proper planning and with enough resources that are well managed and efficiently deployed to meet proper targets supported by the public."
End
Contact: Justin Bowden 07710 631351 or GMB press office 07974 251 823 or 07921 289 880
Notes to Editors
The Department of Health's primary target is that a minimum of 75% per cent of category A calls (defined as "immediately life-threatening") should receive an emergency response at the scene of the incident within eight minutes. A category A call is for an immediately life threatening emergency such as chest pain, breathing difficulties or cardiac arrest.
The Department of Health's have a second target that a minimum of 95% of category A calls (defined as "immediately life-threatening") that require transport should be met within 19 minutes of the request being made for a vehicle capable of transporting the patient.
Category B calls include potentially serious calls which do not have immediate concern for breathing and consciousness levels such as road traffic collisions, abdominal pain and fits. This has the 19 minute target.
These are the national targets which have been credited with saving the lives of 2,000 heart attack patient each year since their introduction in 2001.
The final category of ambulance calls is category C which has a locally defined target that varies across the country. These calls are for non-life threatening emergencies and would receive a non-blue light, or cold response and include conditions such as simple falls, headaches without worrying features and other minor ailments
The categorisation is however not precise e.g. some cardiac arrests may be categorised as C whereas many non life threatening cases are categorised A. This reflects the difficulty in assessing clinical priority from a telephone call which may also be from a third party.