GMB London Region launch 'Our Mary' book on the life of Mary Turner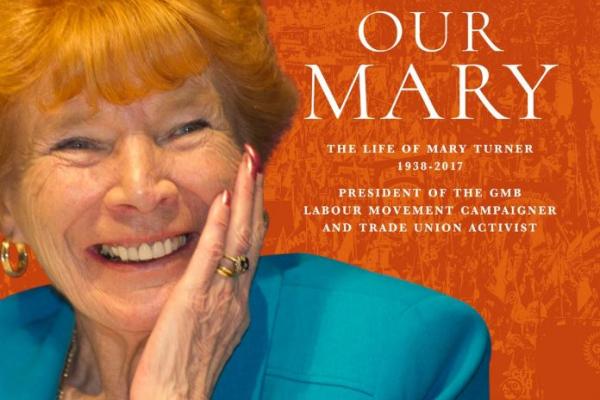 GMB London Region launch new book on the life of former union president Mary Turner at annual Congress in Brighton
For those who never had the unforgettable opportunity to get to know Mary then this book will be a reference to such an amazing person, who led such an inspirational life, and gave so much to our Union and its brilliant members, says GMB London
GMB London Region will be launching a new book on the life of Mary Turner, a committed activist and campaigner and former president of the GMB Union who passed away in 2017.
The book, written by GMB member and former union employee John Callow, tells the story of Mary's life and outlines her instrumental role in the survival of the GMB as an independent union, and its unprecedented growth in membership after 2005.
The book also charts the recent history of the British labour movement: from the People's Marches for Jobs in 1981 and 1983, through the miners' strike, to more recent struggles against cutbacks in local government, the depredations of multinational corporations, and the scourge of austerity.
The book will be on sale to members at GMB Congress in Brighton for £10, or can be bought by contacting our regional office.
John Callow, Author of 'Our Mary' said:
"Mary – though fiercely proud of her Irish heritage – was a Londoner through and through. Her career was rooted in the union's London Region, through her strong bonds of friendship and comradeship with John Cope and Paul Kenny, as successive regional secretaries.
"As a result, it was only natural that London Region GMB should take the lead in commissioning and financing her biography; raising funds through branch collections and appeals to rank-and-file union members for whom Mary Turner – union president, chair of the Labour Party and MBE – would always be simply 'our' Mary.
"She was the stuff of legend, of a thousand stories – some tough to hear, some sorrowful, some triumphant, some downright comical – but all informed by Mary's principled fight against injustice and for the rights of working people."
Lisa Folwell, Granddaughter of Mary Turner said:
"The family feel proud and honoured that so many people will now be able to read and capture Mary's life, her pathway and her achievements. Mary's memory will live on through generations for years to come.
"We are all grateful to everyone who helped and contributed to get the book generated and published and a sincere thank you to both Warren Kenny for putting the plans in motion and John Callow for all the hard work that was put into the book which tells a true story of a working class hero with so much determination and without doubt, was one of a kind."
Warren Kenny, GMB London Regional Secretary said:
"Those who knew Mary should never forget what a truly inspirational Women she was and how she fought passionately for those less fortunate and where their voices were not being listened too. By producing this book, we can proudly say we've most certainly ensured Mary's story lives on and will do so forever more.

"For those who never had the unforgettable opportunity to get to know Mary then this book will be a reference to such an amazing person, who led such an inspirational life, and gave so much to our Union and its brilliant members.

"I'd like to thank every Branch and Activist for their donations to making this book a wonderful reality. Without their fantastic support and generosity, achieving this goal would have been incredibly difficult and taken much longer than it did."
ENDS
Contact: John Callow 07597 628910 or GMB London Press Office 07970 114762