GMB London secures jobs at Heathrow insolvent firm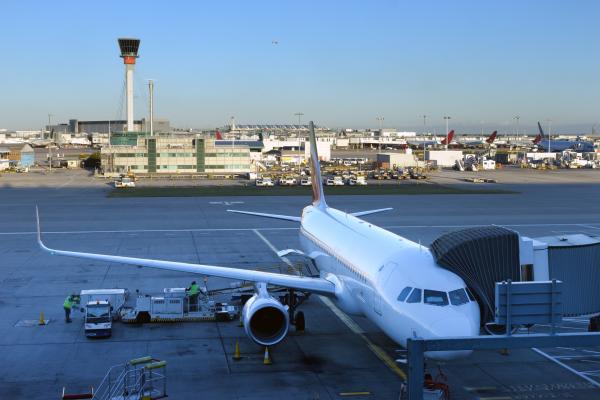 GMB London reaches agreement to secure jobs at Heathrow for workers hit by insolvency at airline catering firm
It is fantastic news that Alpha LSG Sky Chefs have agreed to take on these workers who had lost their jobs with due to Plane Catering liquidation says GMB London
GMB London, the union for airport workers, has reached agreement with Alpha LSG Sky Chefs to secure job positions lost at Insolvent firm Plane Catering in Heston, West London.
Via that agreement GMB has successfully negotiated with Alpha LSG Sky Chefs jobs for all workers that were locked outside the Plane Catering gates on Friday 31st March 2017 as a result of the company going into Liquidation.
The jobs involved include flight coordinators, warehouse workers, general assistants and Transport Drivers.
It is envisaged that Alpha LSG will provide catering services on a temporary basis to Airlines that were initially contracted to Plane Catering.

Perry Phillips, GMB regional Organiser for Aviation at Heathrow, said:
"GMB understands that Plane Catering, who used to provide Catering services to a number of Airlines at Heathrow Airport, had lost a number of contracts at Heathrow and were owed nearly £2 million by one Airline that has yet to pay the insolvent company the outstanding balance it owes.
As a result of the company going in to Liquidation, GMB members were confronted with the gates being locked and a notice stating "Closed For Business" with a loss of all jobs.

I met with workers from Plane Catering on Monday 3rd April 2017 at the Alpha LSG Sky Chefs factory in Heston with a view of securing job positions with the company.
Alpha LSG Sky Chefs, who also provide catering services for Airlines at Heathrow. They agreed to offer job positions to the workers left on the street by Plane Catering without a job.

This is fantastic news that Alpha LSG Sky have agreed to take on these workers, the majority of whom are GMB members, who had lost their jobs with Plane Catering as a result of the company going into Liquidation. In some cases, the company have identified that TUPE applies to a section of the affected workers that protects their terms and conditions and continuation of employment.
I was outside the locked gates of Plane Catering with our GMB members who were extremely distraught and upset of losing their jobs without any prior communication from the company.
I understand that they had not been paid their one months salary for March and there is also the issue of Redundancy/notice pay which will be most likely claimed back through the Secretary of State once an Administrator has been appointed to the Insolvent firm."
ENDS

Contact: Perry Phillips on 07912 293 481 or Trevlyn McCloud on 07968 137 967 or Tony Warr on 07710 631 336