GMB sign up to Serco's Charter of Protection and Respect and Protect campaign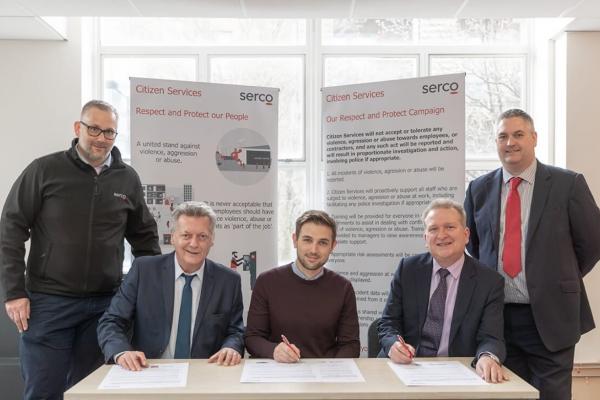 GMB London Region sign up to Serco's Charter of Protection and Respect and Protect Campaign in Hammersmith and Fulham
No employee should come to work and be expected to be subjected to any form of inappropriate behaviour, says GMB London
GMB, the union for refuse/street cleansing/recycling employees employed by Serco within the Hammersmith & Fulham Waste management contract, have signed up to support the Company's Citizens Charter and Respect and Protect Campaign. [See notes to editors for press release from Serco]
Serco's Citizens Service Charter of Protection includes measures such as fostering a culture of zero tolerance, encouraging reporting, supporting police investigations where appropriate, and non-acceptance of unwarranted behaviour. The charter's aim is to raise awareness and increase understanding of violence, aggression and abuse at work, as well as providing a structure of response to identify, prevent and manage such issues.
The 'Respect and Protect' Campaign aims to reduce the increasing number of employees on Serco's Environmental Services contract being subjected to assaults, threats, abusive and insulting behaviour by members of the public.
Keith Williams, GMB Senior Organiser said:
"GMB have long campaigned for councils and contractors who provide public services on behalf of local authority to take positive steps in protecting frontline workers who provide valuable public services to local communities, who have been subjected to violence, aggression or abuse whilst carrying their work.
"Violence against frontline staff is on the rise, and GMB members have reported that they have been punched, spat at, kicked and suffered intimidating verbal and abuse. No employee should come to work and be expected to be subjected to any form of inappropriate behaviour.
"Employees who provide frontline Public Services care passionately about the role they undertake whether in refuse, street cleansing, parking enforcement, leisure services, the list is endless, all they ask, is that when they have been subjected to physical or verbal assault, that the issues are reported and that action will be taken, and that their employer will support them and take a common sense approach to protect them.
"The Citizens Service Charter and Respect and Protect Campaign, launched by Serco sends a clear message, that violence towards employees in any shape or form will not be tolerated, and demonstrates that Serco are fully backing staff, and that any such act will result in investigation and action, involving police if appropriate."
"GMB are now calling for all contractors to follow Serco's lead and introduce their own Charter of Protection to protect employees from violence and assault."
ENDS
Contact: Keith Williams 07710 631339 or GMB London Press Office 07970 114762
Notes to Editors
Serco Press Release
Serco launches 'Respect and Protect' Campaign for employees delivering local services (7 March 2019)
https://www.serco.com/news/media-releases/2019/serco-launches-respect-and-protect-campaign-for-employees-delivering-local-services