GMB support Portobello to Portobello bike ride for MND sufferer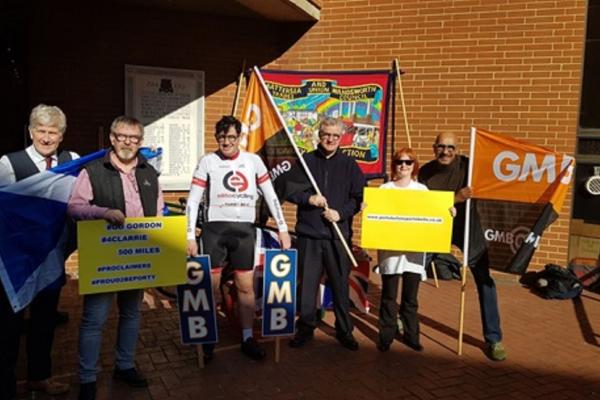 GMB London support 500-mile bike ride from Portobello Edinburgh to Portobello London to raise funds for woman suffering from Motor Neurone Disease who lost relatives in Grenfell tower fire
We urge those who hear of this bike ride to support it too, says GMB London
GMB London Region are supporting a charity bike ride from Portobello in Edinburgh to Portobello Road in London to raise money for Clarrie Mendy, who lost two family members in the Grenfell Tower Fire in 2017, and has recently contracted Motor Neurone Disease (MND).
Colville Ward Councillor Ian Henderson has organised the event that will see his one of his old school and rugby colleagues, Gordon Barclay, make the 500-mile journey.
Details of the ride are as follows:
Day 1.
Sunday 24th March 2019
8am – Depart Portobello
Mid-day – Arrive, Melrose Rugby FC
Day 2.
Monday 25th March 2019
8am – Depart Melrose
​Arrive – Newcastle
Day 3.
Tuesday 26th March 2019
8am – Depart Newcastle
Arrive – York
Day 4.
​Wednesday 27th March 2019​
8am – Depart York
Arrive – Leicester
Day 5.
Thursday 28th March 2019
8am - Depart Leicester
Arrive - Rugby School
Depart - Rugby School
Arrive Reading
Day 6.
​Friday 29th March 2019
8am – Depart Reading
1pm Arrive Portobello Road
Part of the money raised will also be given to the My Name'5 Doddie Foundation, who raise awareness and funds to research Motor Neurone Disease. [See notes to editors for link to JustGiving page]
Ian Henderson, Colville Ward Councillor said:
"Last year, Clarrie Mendy came to a Royal Borough of Kensington and Chelsea Council meeting as a resident for Camden, and spoke about how she tragically lost two family members in the Grenfell Tower Fire and visited the site and community every day, offering help and support to those affected. When she spoke at the meeting me and my colleagues felt a crushing inner compassion. She has since announced that she has contracted MND.
"Since her announcement I have been watching the inspirational work of Robert Weir and The Doddie 5 five charity and their efforts to highlight the lack of awareness of MND, using Robert's (Doddie) rugby credentials as a platform.
"I asked my good friend Gordon Barclay who has done a number of Charity Bike rides, to ride from Portobello to Portobello to raise money for Clarrie, who requires a supported medical bed in her home, therapeutic care, and a holiday. Money will also be raised for Doddie 5 to raise awareness of this debilitating disease.
"Clarrie reached out and we are responding as people, as two small towns (Portobello and Portobello), two capital cities, two countries and two councils supported by unions and the people in the communities, and a market!"
Warren Kenny, GMB London Regional Secretary, said:
"GMB London applaud this initiative to raise hardship funds for Clarrie Mendy who lost two relatives in the Grenfell Tower fire and who is suffering Motor Neurone Disease and for research into Motor Neurone Disease. We urge those who hear of this bike ride to support it too."
Clarrie Mendy said:
"I never believed that there were still good people in the world, I can't believe you are doing this for me."
ENDS
Contact: Keith Williams 07710 631339 or Tony Warr 07710 631336 or GMB London Region Press Office 07970 114762
Notes to Editors
1] http://www.portobellotoportobello.co.uk/
2] https://www.justgiving.com/crowdfunding/portobello-to-portobello