GMB support public meeting on defending Redbridge schools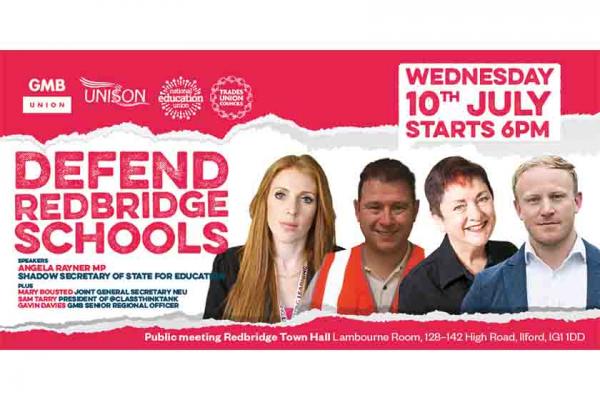 GMB support public meeting with Angela Rayner MP on Wednesday 10 July at Redbridge Town Hall defending Redbridge schools from cuts and academisation
We are seeing constant TUPE transfers and cuts to services that have dramatic detrimental effects on the good people that work in schools, says GMB London
GMB are supporting a public meeting at Redbridge Town Hall on Wednesday 10 July on defending Redbridge schools from cuts and academisation.
GMB and other education unions will be calling for review of the current academisation system and for the government to invest instead in local authority schools.
Details of the meeting are as follows:
Wednesday 10 July
6:00 PM
Redbridge Town Hall
Lambourne Room
128-142 High Road
Ilford
IG1 1DD
Speakers include: Shadow Secretary of State for Education, Angela Rayner MP; Joint General Secretary of the National Education Union, Mary Bousted; President of Class Think Tank, Sam Tarry; and GMB Senior Regional Officer, Gavin Davies.
Gavin Davies, GMB Senior Regional Officer said:
"GMB have growing concerns over what continuing academisation means for our members, the hard working support staff that work in schools and deliver front line educational services and support for children.
"We are seeing constant TUPE transfers and cuts to services that have dramatic detrimental effects on the good people that work in schools. We are calling on the government to undertake a complete review of this system and invest the vital resources needed to give our children the education they deserve."
Angela Rayner, Shadow Secretary of State for Education said:
"I want to join local Labour Party campaigners, Councillors, the GMB and NEU Unions, parents and teachers in demanding that this government gives local people in Redbridge a genuine say over the future of their schools and their children's education.
"The Tories' academy system is simply not fit for purpose. That is why Labour will end the forced conversion of local schools to academies, scrap the inefficient free school programme and instead focus on delivering what works to get the best results for pupils.

"The Tories have thrown money at an academy and free school programme that is not improving outcomes for pupils, even while individual schools have their budgets cut year after year. We now routinely see the shocking sight of schools begging parents for financial support just to ensure that they have basic equipment and supplies. Labour will full our schools properly and restore morale in parents, teachers and education staff facing Tory cuts."
Sam Tarry, local Labour campaigner and President of Class Think-Tank said:
"For too long, parents and local communities have been shut out of decisions affecting schools when academies are forced upon them. In Redbridge there is a proud track record of fighting of Academies and ensuring local communities have a real say in their children's education. The next Labour government will give power back to communities so that our schools are run by the people who know them best – parents, teachers and local communities."
ENDS
Contact: Gavin Davies 07930 983376 or GMB London Press Office 07970 114762
Notes to Editors
1] Banner: http://www.gmbredbridge.org.uk/wp-content/uploads/2019/07/GMB-BANNER-JK-.jpg
2] GMB Redbridge Leaflet:
Local Authority Maintained Schools
• Benefit from economies of scale with other local schools via Redbridge LA.
• All Catholic schools in the Diocese of Brentwood currently benefit from school to school support via the Diocese, as well as via Redbridge Education Partnership, sharing good practice with other Catholic schools as well as other local schools.
• Staff are employed by Redbridge LA, ensuring a continuity of service and protecting their pay, terms and conditions and pension.
• All Catholic schools are accountable to its Governing Body, the Diocese, its stakeholders, the LA, the voting public and Ofsted.
Proposed CMAT
• Proposed benefit from economies of scale within the Diocese.
• School to school support will be through the Diocese only, with schools within the CMAT.
• Staff pay, terms and conditions for existing staff only will be transferred but guaranteed only for a fixed period of time. The CMAT can set its own pay, terms and conditions.
• Conversion costs the tax payer £25,000 per school in admin and legal costs, plus these schools will no longer be Voluntary Aided, meaning the public purse will also be funding the remaining 10% of school funds. Schools are already in a funding crisis.
GMB TRADE UNION IN REDBRIDGE
The Support Staff Union that looks after the rights of staff in schools.
The GMB is working with the community to keep YOUR school a community school
To find out the benefits of GMB phone: 0208 708 2154
email: madeline.daley@gmbactivist.org.uk
Join the GMB at: www.gmb.org.uk/join
Like us on Facebook: GMB Redbridge
REDBRIDGE AGAINST ACADEMISATION
Join the conversation!
Twitter: @RaaRedbridge
Facebook: Redbridge Against Academisation
Email: redbridgeraa@gmail.com
Petition: http://chng.it/ZNd2wh5f