GMB support swab test sessions for Cypriot Leukaemia sufferer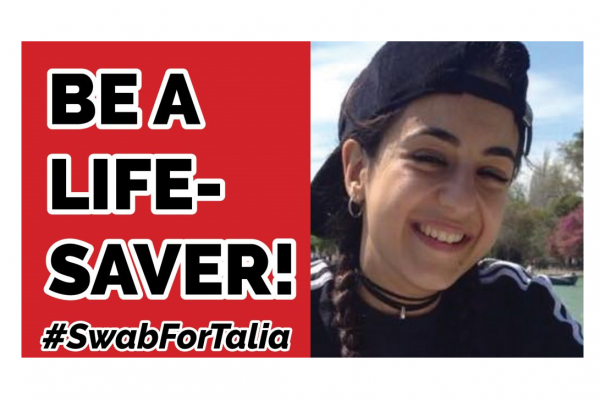 GMB London support swab test sessions to find blood donor match for 24-year-old Cypriot Leukaemia sufferer Talia Tosun
Talia is the focus of our work but ultimately every new donor means that we give other people a chance of finding a match, says GMB London
GMB are supporting three swab test sessions to find a blood donor match for 24-year-old Talia Tosun who has Leukaemia.
Sadly, chemotherapy hasn't worked for Talia and her only chance of survival is to have stem cell treatment. However, first a blood donor match must be found. This is done by taking a simple and painless swab from a cheek.
Details of the swab test sessions are as follows:
Wednesday 9 October
6:00 PM to 9:00 PM
Turkish Women's Philanthropic Association
Willoughby Road
Hornsey
London
N8 OHR
Monday 14 October
10:00 AM to 5:00 PM
Regency Banqueting Suite
Amber Rooms
113 Bruce Grove
Tottenham
London
N17 6UR
Saturday 19 October
10:00 AM to 2:00 PM
Rauf Raif Denktaş Turkish School
Blackfen Girls School
Blackfen Road
Sidcup
DA15 9NU
Participants need to be aged between 16 and 50, be in good health, ideally be of Turkish Cypriot, Greek Cypriot, Turkish or Middle Eastern origin and live in the UK.
Alternatively, a swab pack can be sent to your home. The charity will let you know if you are a match.
Fevzi Hussein, Chair of GMB Race said:
"Talia Tosun is the daughter of one of our member's working at Islington Council.
"Unfortunately Talia has not responded favourably to two rounds of Chemotherapy and now needs a bone marrow transplant. Despite the wonderful work of charities such as ACLT (African Caribbean Leukaemia Trust), DKMS UK and Anthony Nolan there is still a huge shortage of donors in BAME communities and this campaign is about giving someone the gift of life.
"Obviously Talia is the focus of our work but ultimately every new donor means that we give other people a chance of finding a match. The process is so simple and painless. A number of registration drives have now been set up around the North London areas and I urge everyone to #SwabforTalia"
ENDS
Contact: Fevzi Hussein 02089 717388 or 07906 636766 or GMB London Press Office 07970 114762