GMB say strike action possible following unfair dismissal at Watford General Hospital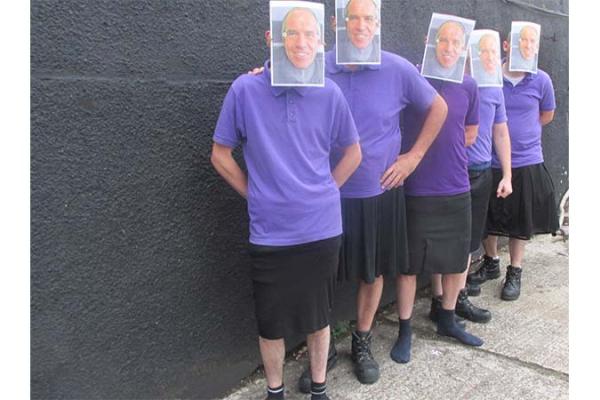 GMB say Watford General Hospital strike possible following sacking of union representative
We feel that this is a case of victimisation and we have passed this to our solicitor and ask our members to support their union rep, says GMB London
GMB, the union for porters at Watford General Hospital, are taking steps to canvass members at the hospital, with a view to support strike action in order to get hospital porter Michael Wood reinstated, following his dismissal by health giant Medirest.
Mr Wood made national headlines in June last year when he was suspended for rolling his trousers up in the hottest June on record. [See notes to editors for previous GMB release on Michael Wood.]
Mr Wood, a GMB Safety Representative who works for Medirest was dismissed on Friday 12 of January 2018, after he allegedly shared a video that showed a Medirest manager in an altercation with a protester who was leafleting at the hospital's AGM in September last year.
Police were called to the fracas at the AGM in September last year which was filmed and posted online. Medirest who employ porters and cleaners claimed that the video breached their social media policy and sacked the porter.
Mr Wood said that he was on holiday and the post was shared by someone else and he believes that the decision to dismiss him was really because of his union activities which included highlighting poor health and safety procedures at the hospital.
Michael Dooley, GMB Regional Organiser said:
"We feel that this is a clear case of victimisation and we have passed this to our solicitors. We will also be taking steps to canvass the porters with a view to going on strike to support Michael Wood's reinstatement."
ENDS
Contact: Michael Dooley 07773 061 798 or GMB Press Office 07970 114 762
Notes to Editors
GMB Press Release
1] GMB demands reinstatement of Watford General Hospital porter suspended for rolling up trouser legs (29 June 2017)
This is no laughing matter for Michael, he is concerned about losing his job, but if it will highlight the absurdity of the situation then we will ensue that on the next hot day our members will be wearing skirts to keep cool says GMB London
A GMB union hospital porter working at Watford General Hospital is still suspended pending disciplinary investigations because he rolled up his black polyester work trousers during the hottest day of the year.
Last week, Wednesday 21 June 2017, the hottest June day in 40 years, while at work pulling heavy hospital equipment, hospital porter Michael Wood rolled up his trousers to help him cool off while he worked. [see notes to editors for previous press release on the suspension]
His bosses, Medirest Compass, a multinational private company who provide porters and cleaners to Watford Hospital, suspended Michael because he was not wearing his uniform correctly.
GMB said that they would advise their members to wear skirts to work when it was too hot.
Anger hit a new pitch among the minimum wage Medirest staff because of what is considered a case of bullying because Michael is a union safety representative.
Medirest now say that the reason for Michael's suspension is because he breached a health and safety rule. Initially it was understood to be because Michael did not look good with rolled up trousers.
Michael Wood is a local Watford man, a father of two with four years service and, until now, he had a no fault disciplinary record.
Michael Dooley GMB local representative said:
"We held a meeting yesterday evening which was well attended and we sampled what will be in store for Watford General Hospital unless Michael is reinstated. A group of porters showed us how they would look in skirts.
"At the end of the day this is no laughing matter for Michael, he is concerned about losing his job, but if it will highlight the absurdity of the situation then we will ensue that on the next hot day our members will be wearing skirts in Watford General Hospital to keep cool."
One of the hospital porters said:
"At least we will be cool, Medirest could provide us with lighter uniforms during the hot weather. It is ok for the managers, they are in sitting air conditioned offices."
2] WATFORD HOSPITAL WORKER SUSPENDED FOR ROLLING TROUSERS UP ON THE HOTTEST DAY OF THE YEAR (22 June 2017)
The suspended worker has been treated unfairly in our view and should be reinstated immediately and a sensible resolution should be brought about says GMB London
Hospital workers in Watford General hospital who asked their managers for permission to wear three quarter length trousers because of the intense heat were told to keep wearing their normal black combat trousers. Yesterday, 21st June 2017, a worker was suspended from work for rolling his trousers up, disciplinary action is now pending.
Private contractor Medirest, a multinational company who supply porters and cleaners to Watford General Hospital, suspended a GMB union safety representative following a disagreement about the wearing of combat style black trousers and what the union say ware inadequate provisions for workers during the intense heat wave.
The safety representative, Michael Wood, was suspended from work when he refused to roll down his trousers during the hot weather. Following a disagreement over working in excessive temperatures, Mr Wood and many of his colleagues who are hospital porters started to roll up their trousers when they were hot.
There is no legislation in place for working in hot temperature and the guidelines only require an employer to act reasonably. Medirest have distributed instructions on where to get a drink of water in the hospital. However, the union feel that more rest breaks, bottled water and shorter three quarter length trousers would assist the workers working in temperatures of more than 30 degrees.
Instead of providing shorter or lighter trousers Medirest insisted that the normal black cotton fabric combat trousers must be worn. This hard line approach to workers safety follows in a series of industrial relations problems with Medirest at Watford General. Recently two workers were suspended for five weeks for refusing to work in a dangerous way with unsafe equipment.
Michael Dooley GMB local representative said:
"The porters, who are paid minimum wage, are expected to continue working as normal in the searing heat whilst managers sit in air conditioned offices. Because of the unusually high temperatures, the NHS managers in Watford General have adopted a reasonable approach towards their workforce. However, Medirest consider suspending safety reps is the preferred option, this of course intimidates other workers into submission to ensure compliance. The spirit of good will and cooperation seems to have died in Watford General hospital.
"Many workers are fasting for their religious observance and the excessive heat will no doubt compound their hardship. Mr Wood has been treated unfairly in our view and should be reinstated immediately and a sensible resolution should be brought about."
ENDS