GMB to ballot Heathrow terminal cleaners on strike action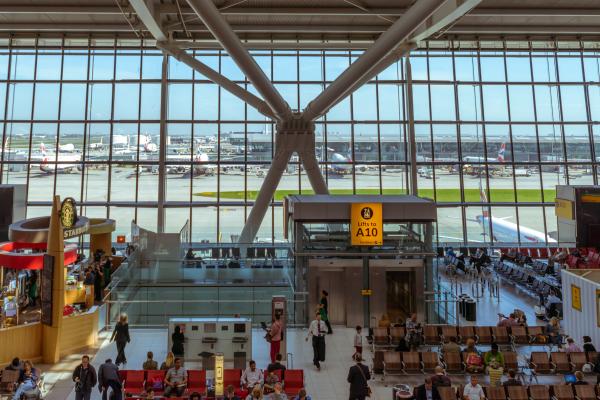 GMB to ballot ISS terminal cleaners at Heathrow Airport on industrial action over poverty wages
It is an absolute disgrace that our members are paid barely the minimum wage at the world's largest airport with record numbers of passengers and record profits, says GMB London
GMB London Region are balloting members working as terminal cleaners for ISS at Heathrow Airport through a consultative ballot to ask if they prepared to support an official ballot for industrial action over poverty wages.
ISS, a facility services company, have the Heathrow Airport terminal cleaning contract for Terminals 1, 2, 3 and 4 and for many years they have paid poverty wages to its staff who are struggling to make ends meet as their income falls well below the poverty line.
GMB have been in pay negotiations with ISS for many months, yet the company have continually failed to produce an offer of an increase in pay to GMB members.
GMB have been campaigning at Heathrow Airport for many years in support of low paid workers and have been successful in securing the commitment from Heathrow Airport Ltd of implementing the London Living Wage of £10.55 per hour. The union now want to see that in members pay packets.
Both ISS and Heathrow Airport Ltd have boasted of huge profits and pay out thousands in dividends to its shareholders at the expense of low paid GMB members who are now saying enough is enough. GMB are calling for a stop to the race to the bottom culture at the airport.
Perry Phillips, GMB Regional Organiser for Aviation at Heathrow said:
"ISS continue to kick the can down the road on a pay rise for GMB members through the collective bargaining process and ACAS conciliation, claiming that its client Heathrow Airport Ltd are the stumbling block for giving out any pay reward as a glide path plan of achieving paying the London Living Wage by March 2020.
"Our members have had enough of being stuck on low poverty wages at the airport and are sick and tired of the company moving dates back to make a commitment on a pay offer. We have no choice but to now consult with GMB members to ask if they are prepared to support a ballot for industrial action.
"Our members and their families are struggling financially, with some of our members having to take 2 or 3 extra jobs just to survive. ISS terminal cleaners are a vital integral part of Heathrow Airport and have contributed to its success and vast profits. This is why they should be paid a liveable wage.
"It is an absolute disgrace that our members are paid barely the minimum wage at the world's largest airport with record numbers of passengers and record profits.
"GMB are calling on ISS and Heathrow to do the right thing and present a pay offer to GMB that will see wages vastly increase to the London Living Wage that Heathrow have committed to implementing within its supply chain. We are not prepared to wait anymore."
ENDS
Contact: Perry Phillips 07912 293481 or GMB London Press Office 07970 114762