GMB welcome increase of London Living Wage to £10.55 per hour and £9 per hour for rest of UK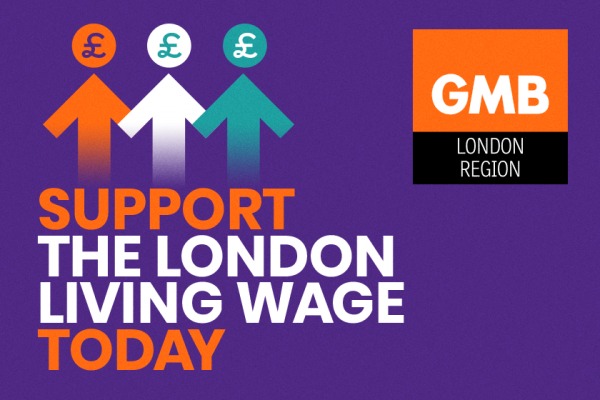 GMB welcome increase of London Living Wage to £10.55 per hour and UK Living Wage to £9 per hour and call on employers to start paying it
It's time for more employers to start paying it, in particular contractors in the public sector and the NHS who should be forced to pay it, says GMB London
GMB have welcomed the news that the 'Real Living Wage' has risen to £10.55 per hour in London and £9 for the rest of the UK.
The figure, independently calculated by the Living Wage Foundation, and announced today (November 5) by the Mayor of London Sadiq Khan, is based on what people need to live in London, and has risen by 35p from £10.20 per hour.
In East of England the real living wage is £9 per hour, an increase of 25p from £8.75.
GMB have called on all employers in London to pay the voluntary Real London Living Wage which is currently £2.72 higher than the statutory National Living Wage, and the Real Living Wage across the rest of the UK, which is £1.17 more than the National Living Wage.
Warren Kenny, GMB Regional Secretary said:
"GMB welcome the increase of the Living Wage to £10.55 an hour in London and £9 per hour outside London.
"Now it's time for more employers to start paying it. In particular, contractors in the public sector and the NHS who should be forced to pay it.
"These pay increases are badly needed. Earlier this year, GMB showed that across London as a whole the real value of average wages for workers resident in the capital in 2017 was only 84.6% of the buying power they had in 2007 when inflation is factored in. In the East of England the figure was 89.4%%.
"Last week GMB London showed that rents on two bedroom flats in London have risen by 21.7% since 2011 with the median rent standing at £1,450 a month." [See notes to editors for copy of GMB press release]
ENDS
Contact: Keith Williams 07710 631 339 or Gavin Davies 07930 983 376 or GMB London Press Office 07970 114 762
Notes to Editors
'Kensington and Chelsea tops London private rent league' (31 Oct 2018)
https://www.gmblondon.org.uk/news/kensington-and-chelsea-tops-london-private-rent-league