GMB welcome Newham Council passing Living Wage motion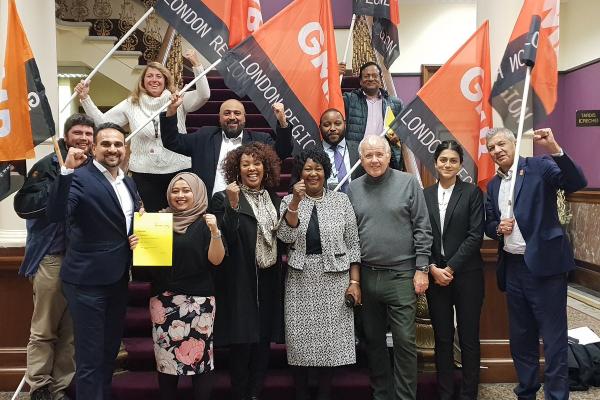 GMB welcome passing of motion committing Newham Council to becoming accredited Living Wage Employer
This is an important and significant step in the right direction by the council to ensure low paid workers across the borough are lifted out of low pay brackets, says GMB London
GMB have welcomed the passing of a motion by Newham Council to commit to becoming an accredited Living Wage Employer at a Council meeting last night (10 December). [See notes to editors for previous GMB press release]
The motion means Newham Council have committed to ensuring all staff directly employed by Newham Council will be paid at least £10.55 per hour, a figure independently calculated by the Living Wage Foundation to find the real cost of living in London.
The motion also states it will 'agree a binding plan of implementation with the Living Wage Foundation' which would ensure staff employed by contractors who work for Newham Council, also receive the London Living Wage.
Warren Kenny, GMB Regional Secretary said:
"GMB welcome this news that Newham Council have committed to becoming an accredited Living Wage Employer. This is an important and significant step in the right direction by the council to ensure low paid workers across the borough are lifted out of low pay brackets.
"It is the result of a lot of hard work from both Newham Councillors and GMB in producing and pushing forward the motion and it is great to see that hard work rewarded with its unanimous passing.
"The passing of this motion will affect 100's of people working within Newham Council and will positively impact many of our members working in Schools that are still under local authority control. It will also encourage all employers in the borough to follow the councils lead and pay their staff at least the London Living Wage of £10.55 per hour.
"We hope that Newham will move quickly to implement this motion, and that their 'binding plan' with the Living Wage Foundation which extends the motion to contracted staff is also implemented immediately."
ENDS
Contact: Gordon White 020 84574137 or GMB London Press Office 07970 114762
Notes to Editors
Previous GMB Press Release
GMB support Newham Council motion to become accredited Living Wage Employer (6 December 2018)
https://www.gmblondon.org.uk/news/gmb-support-newham-council-living-wage-motion