Norfolk resident receives runner-up prize for health and safety award at GMB Congress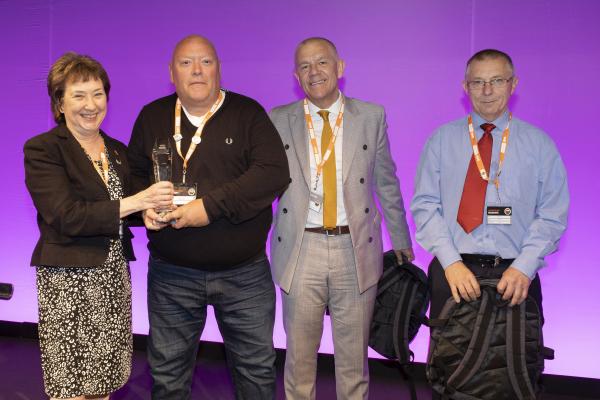 Norfolk resident given GMB Health and Safety runner-up award at GMB congress in Brighton
Alan has been recognised primarily for challenging management at Anglian Water to improve their health and safety structures, says GMB London
Norfolk resident Alan Law, GMB member in the King's Lynn No. 1 Branch, has received the runner-up prize for the GMB Mary MacArthur Health and Safety Representative of the Year award for his work challenging management at Anglian Water to improve their health and safety structures. The award was presented at the GMB Congress in Brighton.
Alan's persistence and leadership resulted in Anglian Water trialling a Health and Safety Technician role, which proved so successful that the company now employs 7 full time technicians.
The 102nd GMB Congress, comprises of 500 elected lay members and 300 visitors and guests. GMB Congress delegates were elected from the GMB membership to represent over 640,000 members from every part of the UK and Ireland and every sector of the economy. Congress is the supreme policy making body in GMB.
Warren Kenny, GMB Regional Secretary said:
"We are delighted that the General Secretary has awarded Alan the runner-up prize of the Mary MacArthur award. We know Alan has been nominated several times in the past, and we are particularly pleased that his hard work over many years has been recognised.
"As well as his persistence and leadership in getting Anglian Water to employ Health and Safety Technicians, Alan has also taken the lead on mental health in the business, involving himself in training and investigation activity, and working with Time to Change.
"The standard of nominations this year has been exceptionally high, and Alan has done very well to stand out in such a strong field.

"Best wishes and Congratulations to Alan and the Kings Lynn Branch for this award."
ENDS
Contact: Shaun Graham 07885 706556 or GMB London Press Office 07970 114762