Heathrow Airport Limited (HAL) must comply with social distancing and government guidelines to protect workers and passengers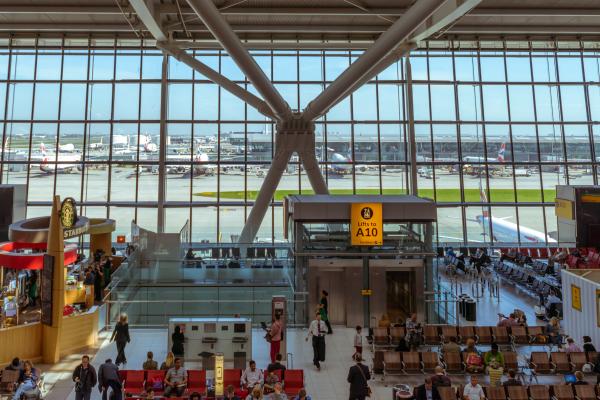 PASSENGERS ON REPATRIATION FLIGHTS ARRIVING INTO HEATHROW ARE PUTTING THE LIVES OF AIRPORT WORKERS AND PASSENGERS AT RISK OF COVID-19
Airport workers are working in the two open Heathrow terminals where the baggage halls become crowded with passengers because HAL has closed two of its four terminals, meaning social distancing measures are not being practiced
GMB London, the union for airport workers, is calling for urgent action from management at Heathrow Airport Limited to put much more stringent measures in place and comply with the government's social distancing requirements to protect the health and safety of our members working at Heathrow and passengers using the airport.
These workers fear the risk of contracting the virus from passengers returning from countries where Covid-19 is prevalent. The PPE provided is not be enough to protect our members who feel exposed in this over-crowded environment. They need the protection of social distancing. HAL is disregarding the TUC Joint Council, HSE and the CBI statement which makes clear that employers​ who remain open during the current crisis must guarantee safe working conditions and minimise the risk of workers being exposed to Covid-19.
The statement from the TUC Joint Council, HSE and CBI warned that employers who do not comply with the latest Public Health England guidance, including by not introducing social distancing measures, face being hit with enforcement notices.
There is currently no Covid-19 screening at Heathrow airport which heightens the real concern that airport workers are at greater risk of contracting and spreading the virus. In the past two weeks 3 GMB London Region members working at Heathrow have lost their lives to the coronavirus.
Trevlyn McLeod, GMB London Region Organiser said:
"On Tuesday 27 April two flights arrived at the same time from the same country, HAL allocated one conveyor belt for up to 500 passengers waiting to collect their bags. No social distancing was enforced in what was a very crowded area.
These are not safe conditions for passengers and they are not safe working conditions for our members who are going to work at Heathrow each day during this health crisis, risking their lives and the lives of their loved ones.
I find it incredulous that almost 8 weeks into the Covid-19 lockdown, Heathrow is still operating flights without enforcing the government's guidelines on social distancing at the airport. There is no Covid-19 screening to help contain the spread of the virus in operation at Heathrow or many other overseas airports. Enforcing social distancing is essential if our members and airport passengers are to feel that their lives are more important than money."
Screening for coronavirus at airports will be 'kept under review' by the government. GMB calls for HAL to enforce the government's guidelines on social distancing and safe working at Heathrow airport for all working and using the airport.
End
Contact:
Trevlyn McLeod, GMB London Region Organiser 079 6813 7967
GMB London Region Press Office 079 7001 9643