Protests at 3 West London hospitals over pay dispute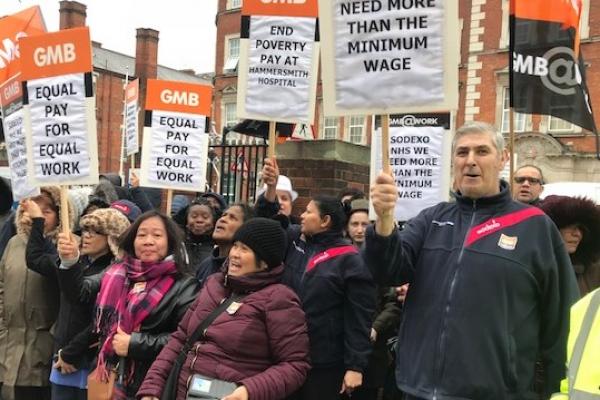 Hospital workers to protest in three West London Hospitals
These protests are to show the hospital trust, the public and their employer that staff are not sitting back and accepting poverty pay when other workers get the London Living Wage, says GMB London
Three London Hospitals are set to protest over what workers say is Poverty Pay. The prestigious St Mary's Hospital in Paddington, Hammersmith Hospital in Shepherds Bush and Charing Cross Hospital in Fulham will all be affected by the protests on Tuesday 30 April 2019.
The workers union GMB will be arranging the protests which will involve porters, cleaners and domestic staff who work for French multinational Sodexo, and who say that they have had enough of minimum wage pay and are considering strike action.
Details of the protests are as follows:
Tuesday 30 April
12:00 PM to 2:00 PM
St Mary's Hospital
Praed St
Paddington
London
W2 1NY
12:00 PM to 2:00 PM
Hammersmith Hospital
Du Cane Rd,
White City,
London
W12 0HS
3:00 PM to 5:00 PM
Charing Cross Hospital
Fulham Palace Rd
Hammersmith
London
W6 8RF
The Union will be bringing a giant inflatable rat to Hammersmith Hospital and will be protesting with placards, flags and banners outside. There are 1100 Sodexo staff in the three hospitals which belong to the Imperial College Healthcare NHS Trust.
One worker in Hammersmith Hospital, a mother of three, said "we all do our best for the hospital, I clean blood, vomit and faeces, day in and day out I think I am worth and deserve more than the minimum wage."
A porter at St Mary's Hospital said "none of us want to go on strike but we will protest, I love my job but I am only surviving in London on the minimum wages of £8.21, I cannot take this anymore and many of my colleagues feel the same."
Michael Dooley, of the GMB union who is organising the protests said:
"We have met with Sodexo bosses and Sodexo have said that they will not pay an increase, we have arranged to speak with them again but in the meantime we will continue our protests. We have not ruled out strike action but many of our members do not want to disrupt the patient's routine so they will protest for now to show the hospital trust, the public and their employer that they are not sitting back and accepting poverty pay when other workers get the London Living Wage".
"The staff in the NHS should be properly rewarded for their labour, this includes the staff who have been contracted out who undertake the work that keeps the hospital running and patients comfortable and safe."
ENDS
For further information, please contact:
Michael Dooley on 07773061798 or Michael.dooley@gmb.co.uk or GMB London Press Office 07970 114762
Sodexo Director of Operations Caroline Laver on 07771500988 or caroline.laver@sodexo.com
Imperial Trust CO Tim Orchard - 020 3311 3311
Imperial Trust Press Officer Charlie King CHARLIE.KING1@NHS.NET