Residents of Camden estate have made their views clear on redevelopment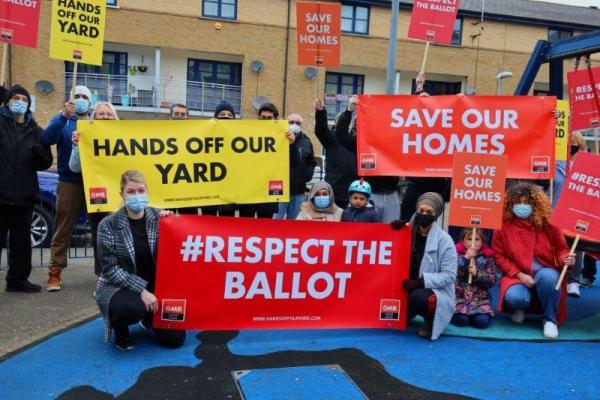 GMB London Region supports the residents of Gilbeys Yard & Juniper Crescent in Camden Town in their campaign to stop One Housing Group from demolishing their homes
In June and July 2020, tenants and residents in Gilbeys Yard and Juniper Crescent NW1 voted against the demolition and redevelopment of their 24-year-old estates in a democratic ballot held by their landlord, One Housing Group.
One Housing promised that the ballot result would be conclusive, but they now want to force through the unnecessary demolition of the 202 award-winning homes that were only built in 1996 and replace them with 700 high density and high rise homes over the next eight to ten years, which will be unaffordable for most local people.
GMB London Region is supporting the residents in calling the local MP, Labour Leader Keir Starmer, the Mayor of London Sadiq Khan, the Leader of Camden Council Georgia Gould and the local councillors – Cllr Pat Callaghan, Cllr Lazzaro Pietragnoli and Cllr Richard Cotton – to fight for the residents' rights and guarantee that One Housing and its CEO, Richard Hill, respects the 2020 vote and put an end to their plan for an unnecessary re-run of the ballot and the undermining of the democratic outcome.
With the pandemic still far from over, resident have the added uncertainty of dealing with the threat of demolition, despite having made their feelings clear at the ballot box less than 12 months ago.
Vaughan West, GMB London Region Political Officer said:
"Richard Hill and One Housing need to listen to their residents and stop making a mockery of the 2020 ballot result. Redevelopments such as these do little to provide affordable housing to those in Camden whose need is greatest. In 2018 the Mayor of London introduced resident ballots as a prerequisite for GLA redevelopment funding. The GLA requires that demolition should 'proceed only if the majority are in favour'. The residents of Gilbeys Yard and Juniper Crescent have made their views clear and One Housing need to accept their vote and stop trying to overturn the ballot."
End
Contact: Vaughan West, GMB London Region Political Officer 079 6734 2197