GMB London welcome London Mayor's announcement to ballot residents on regeneration projects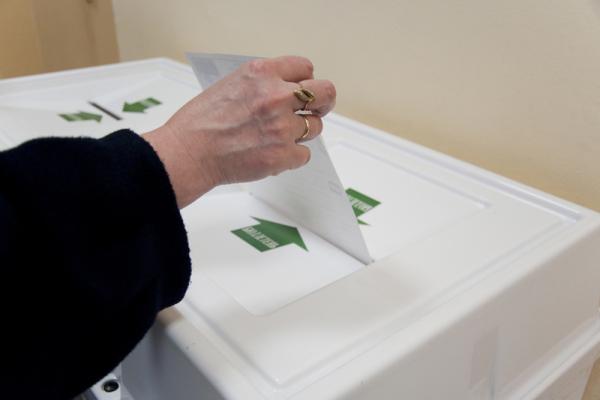 GMB London welcome announcement by London Mayor Sadiq Khan that estates residents in London will be balloted on regeneration projects
This is a closer step to actually giving residents a say in the future of their estates, says GMB London
GMB London has welcomed the announcement today (February 2nd) by Mayor Sadiq Khan that residents on estates will in future be balloted on any new regeneration projects affecting their homes and estates. [See notes to editors for copy of the press release from Sadiq Khan in notes to editors]
Sadiq Khan announced the policy this afternoon at an event in Barnet with Labour leader Jeremy Corbyn.
Over 100 estates in London are targeted for full or partial demolition. GMB London is campaigning and lobbying for the right of residents on council and housing association estates to fight for the democratic right to ballots on all estate regenerations. [See notes to editors for list of estates facing regeneration and demolition]
Gary Doolan, GMB Political Officer said:
"This is a closer step to actually giving residents a say in the future of their estates.
"Let's hope residents have a number of choices when they come to decide.
"However we also must make sure it's tenant led and not leasehold/landlord led. GMB London will campaign for the safeguards for a fair and balanced approach to balloting residents."
ENDS
Contact: Gary Doolan 07590 262 504 or GMB Press Office 07970 114 762
Notes to Editors
1) Sadiq Khan Press Release (1 February 2018)
Sadiq sets out proposals to fund new schemes only if residents vote in favour of them
First-ever estate regeneration guide for London says there must be no loss of social housing
Residents to be 'at the heart' of decision-making
The Mayor of London, Sadiq Khan, has today published the first-ever City Hall guide to estate regeneration in London, setting out how he will protect social housing. He proposes mandatory ballots of residents for schemes where any demolition is planned as a strict condition of his funding.
The 'Better Homes for Local People' good practice guide is the first time any Mayor has set out strong guidelines on estate regeneration for the capital and follows an extensive and comprehensive consultation process. While the Mayor has limited sway when it comes to estate regeneration, he is determined to use his funding and planning powers to their fullest extent to protect social housing and give its residents a voice in the capital.
The guide seeks to empower tenants, leaseholders and freeholders in developing regeneration plans with their landlords. It forms a key part of the Mayor's broader calls for social housing residents to have a bigger say in the future of their estates following last year's horrific fire at Grenfell Tower.
Sadiq first highlighted the important role that ballots play in his draft good practice guide published in December 2016 and has, over the last year, developed plans to make positive ballots a condition of and future City Hall funding for new estate regeneration projects. His detailed proposals for ballots, also published today, will be separately consulted on for two months to become a condition of funding for new schemes in the capital.
There are estimated to be around 25 estate regeneration schemes underway at any one time in London involving funding from City Hall, and under the Mayor's plans all such schemes would, in future, require a successful ballot outcome before their funding could be approved.
The Mayor's guide explains what he believes Londoners living on social housing estates should expect from their landlords when regeneration is proposed – with full consultation and involvement from the outset being crucial. Where demolition is proposed, the Mayor wants to see councils and housing associations follow his 'Better Homes for Local People' principles by providing:
an increase in affordable homes – and as a minimum, no loss of social housing;
full rights to remain or return for tenants;
a fair deal for leaseholders and freeholders.
The Mayor wants to see these principles applied as widely as possible, and will use his draft new London Plan to ensure no net loss of social housing and an increase in affordable homes wherever possible. He will help make sure there is clear resident support for major schemes that involve any demolition through his proposed condition that Mayoral funding in future will be dependent on a positive resident ballot on landlords' plans.
During its formal consultation last year, the draft version of the Mayor's guide received more than 2,000 responses from Londoners, which showed strong support for his commitment to ensuring no loss of social housing in any estate regeneration programme, and looking to increase the amount of affordable housing whenever possible.
The Mayor of London, Sadiq Khan, said: "We need more social housing in London, not less, which is why I will use all my powers to make sure that any plans for estate regeneration protect existing social housing and take every opportunity to build more.
"My guide sets out how I will use my investment powers in a way they have never been used before, by requiring resident support through a ballot for new plans involving demolition where City Hall funding is involved.
"I want to make sure people living on social housing estates, who have the greatest interest in their future, are at the heart of any decisions from the outset. By involving residents and putting social housing first, we can make sure plans for estate regeneration help build a city for all Londoners."
Cllr Lib Peck, Lambeth council leader, said: "I welcome the publication of the Mayor's good practice guide to estate regeneration – like him, we are committed in Lambeth to protecting our social housing, building more council homes and supporting all our residents.
"I fully support the Mayor's view that residents must be at the heart of decision-making when it comes to estate regeneration, which reflects our approach in Lambeth.
"We're building a new generation of estates with no loss of social housing and a guarantee of a new home for every resident on each rebuilt estate having secured the largest Mayoral grant funding of any London borough, without the involvement of private developers.
"We will continue to work closely with the Mayor, on building more and better homes for local people as we tackle the London housing crisis together."
Lord Bob Kerslake said: "I welcome the Mayor of London's steps to protect social housing and put residents at the heart of decision-making in estate regeneration schemes.
"As a key milestone within a broader consultation process, ballots have the potential to build trust between residents of an estate and their landlord, and where they back regeneration plans, they can give everyone involved the certainty they need to get on with building more and better social housing for local people."
Sarah Holtam, co-chair of Citizens UK Council, said: "We are encouraged that the Mayor of London is trying to give power back to local people when it comes to estate regeneration. For too long members of London Citizens and those living on estates across London facing regeneration have been forced to be observers to painful changes to their communities, without the voice they deserve.
"A mandatory ballot of residents being a condition of GLA funding would be a big step in the right direction and we will be responding to the consultation to try and make sure the final policy is fit for purpose."
2) Estates in London facing regeneration
| | |
| --- | --- |
| Barking & Dagenham | The Leys Estate |
| Barking & Dagenham | Goresbrook Village |
| Barking & Dagenham | Gascoigne Estate |
| Barking & Dagenham | Abbey Road Co-op Estate |
| Barnet | Granville Road Estate |
| Barnet | Dollis Valley Estate |
| Barnet | Cricklewood Brent Cross |
| Barnet | West Hendon |
| Barnet | Grahame Park Estate |
| Barnet | Stonegrove and Spur Road Estates |
| Brent | South Kilburn, Albert Road |
| Brent | Church End |
| Brent | Alperton |
| Brent | Barham Park Estate |
| Ealing | South Acton Estate |
| Ealing | Dean Gardens Estate |
| Ealing | Green Man Lane |
| Ealing | Havelock estate |
| Ealing | Rectory Park |
| Enfield | Alma Road Estate |
| Enfield | New Avenue Estate |
| Enfield | Ladderswood Way Estate |
| Greenwich | Connaught Estate |
| Greenwich | Maryon Road and Grove Estates |
| Greenwich | Morris Walk Estate |
| Greenwich | Ferrier Estate |
| Greenwich and Bexley | Tavy Bridge Estate (Thamesmead) |
| Hackney | New Era Estate |
| Hackney | Woodberry Down |
| Hammersmith & Fulham | Watermeadow Court |
| Hammersmith & Fulham | West Kensington & Gibbs Green Estates |
| Hammersmith & Fulham | Edith Summerskill House (on the Clem Atlee Estate) |
| Hammersmith & Fulham | Ravenscourt Park |
| Haringey | Love Lane Estate |
| Haringey | Wards Corner site |
| Haringey | Nothumberland Park Area Housing Estates |
| Havering | Briar Road Estate |
| Islington | Bemerton Estate |
| Islington | Andover Estate |
| Lambeth | Myatts Field estate |
| Lambeth | Loughborough Park Estate |
| Lambeth | Cressingham Gardens |
| Lewisham | Excalibur Estate |
| Lewisham | Heathside and Lethbridge estates |
| Lewisham | Reginald Road |
| Lewisham | Pepys Estate |
| Newham | Canning Town and Custom House (Hallsville quarter) |
| Newham | Carpenters Estate |
| Southwark | Wood Dene Estate |
| Southwark | Aylesbury Estate |
| Southwark | Heygate estate |
| Southwark | Elmington Estate |
| Tower Hamlets | Robin Hood Gardens |
| Tower Hamlets | Cotall Street |
| Tower Hamlets | Ocean Estate |
| Waltham Forest | Marlowe Road Estate |
| Wandsworth | Tidbury Court |
| Wandsworth | Winstanley Estate and York Road estates |
| Wandsworth | Alton West estate |
| Westminster | Church Street & Paddington Green |