Say No To Contract 6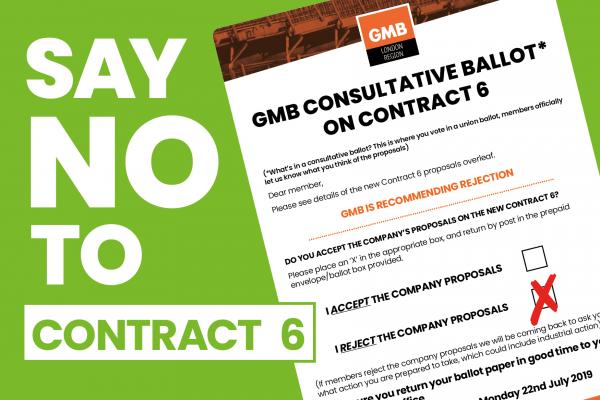 GMB Consultative Ballot On Contract 6 - Asda
GMB Union has been in consultation with ASDA since 2017, over the new contract 6 the company wants to put in place for all colleagues. In that time over 64,000 colleagues have not signed to the new contract, a clear indication that colleagues are not happy with the new terms.
ASDA is not listening to our concerns and are pushing ahead with their own agenda, which is causing some upset in stores. We have to take a stand to protect our members at ASDA.
GMB has NOT AGREED terms with the company.
The union is balloting members on the company proposals, which we would encourage colleagues to REJECT. By rejecting the company proposals, you give the union better negotiation power with the company and our best chance at meeting fair terms.
If you are not yet a GMB member there is still time to join and take part in the ballot & support during the one on one meetings. To join simply visit www.gmb.org.uk/join-gmb.
Members can expect ballots delivered to them in the forthcoming days, along with reply paid envelopes. Please mark the ballot and return as a priority.
If you don't receive a ballot paper you can contact our Asda support site at www.gmb-asda.com/support or call us on 01603 626492.
We will keep you updated on progress.