Thousands of Securitas workers now protected by domestic abuse charter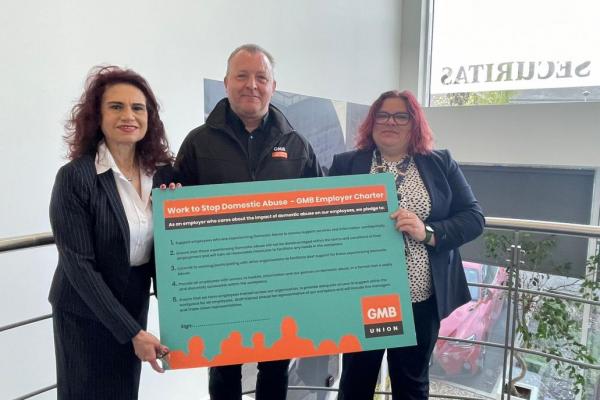 The security giant this week will provide a discretionary period of paid time off for someone dealing with domestic violence or abusive behaviours, to support them in seeking the appropriate help.
The charter calls on employers to support employees experiencing domestic abuse to ensure they will not be disadvantaged at work, will be supported with access to services and information and that all employers train staff to be able to appropriately and confidently support staff.
Estimates from the most recent Crime Survey for England and Wales year ending March 2020 show 5.5 per cent of adults aged 16 to 74 years, a massive 2.3 million people, experienced domestic abuse in the 12 months prior.
Hilda Tavolara, GMB London Regional Equality Officer said:
"GMB are pleased that Securitas recognises domestic abuse as a workplace issue and has given its firm commitment to tackling violence and domestic abuse in all forms by proactively supporting staff experiencing domestic abuse, making the workplace a safe environment and ensuring support is available whenever it is needed. Ending violence against all is a key strategy priority within Securitas.
"Today, we celebrate Securitas signing the GMB Domestic Abuse Policy and Charter. This means that as an organisation, Securitas is committed to all of the Charter pledges. "
Marcia Durkey, GMB London Activist and Securitas Guard said:
"I am delighted Securitas has chosen to adopt the GMB Domestic Abuse Charter.
"Enhancing the understanding of recognising domestic abuse in the workplace through the policy is just one of the ways employers can support staff that have experienced or are experiencing domestic abuse.
"This can form a positive working environment for all workers. When staff feel they are supported, they will be confident in approaching their employers for help, this can improve their morale and dedication which will have a huge impact on productivity in and outside of the workplace.
"Not only will this be, a reflection of good management practice but also corporate social responsibility."
Sarah Hayes, HR Director Securitas UK, said:
"In Securitas UK we want our people to feel safe, every day, whether they are at home or at work.
"We want our people to be able to live in peace and with dignity and we take great care in educating our teams about domestic abuse – what it is, what it can be, and how to appropriately support colleagues who are suffering domestic abuse.
"We recognise how important it is to support people who are living in an environment of abuse in a way that is helpful to them, whilst making sure that the perpetrators of domestic abuse understand that we will not turn a blind eye.
"Following the launch of our domestic abuse policy last year, we are committed to continuing our work to stop domestic abuse and we are very proud to sign up to the GMB Work To Stop Domestic Abuse Charter.
"Working in partnership with the GMB, we'll do everything we can to deal with the impact of domestic abuse and build a more nurturing and safer working environment for all our people."
End
Contact: Hilda Tavolara, GMB London Regional Equality Officer 079 7678 4737