Video footage emerges of shocking working conditions during Covid-19 crisis at Bakkavor meals London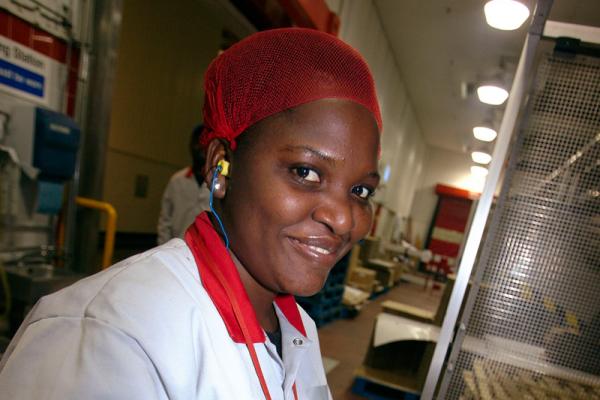 GMB has been provided with shocking video footage, from a management briefing at Bakkavor Meals London
GMB has been provided with shocking video footage, from a management briefing at Bakkavor Meals London, where workers were told "You can't socially distance here" and managers displayed total disregard to the statement made by the TUC Joint Council, HSE and the CBI which makes clear that Employers ​,who remain open during the current crisis, must guarantee safe working conditions and minimise the risk of workers being exposed to COVID 19.

The statement from the TUC Joint Council, HSE and CBI warned that employers who do not comply with the latest Public Health England guidance, including by not introducing social distancing measures, face being hit with enforcement notices and potential closure.

During the briefing a Bakkavor manager tells workers they have to "Keep Tesco happy or we won't have jobs" and he is clearly failing to accept the responsibility Bakkavor should have for its staff. The footage shows Bakkavor's essential workers being told 150 jobs had already been lost and that there could be further losses and "those who didn't bother turning up would be the first to go"

Andre Marques GMB Organiser said:
"GMB London is calling for urgent action to be taken to protect the safety of workers at Bakkavor Meals, including the immediate introduction of social distancing and proper Personal Protective Equipment (PPE). The footage seen by GMB, shows a Manager demonstrating how to put on a snood to keep their mouths covered but worryingly this is not proper PPE, as defined by the Personal Protective Equipment Regulation 2002, and also the Personal Protective Equipment at Work Regulations 1992. Bakkavor workers were told to wash their snoods at least once a week and dry it on the radiator. This is not acceptable.

There is absolutely no excuse for any Employer to be putting their staff at such risk and no excuse for not complying with the COVID-19 guidance.

GMB will not tolerate any employer bullying and threatening our Members. Bakkavor has displayed, in this video, disregard for process and disrespect for its employees. Bakkavor has now exposed that job losses will potentially be unfair dismissals and GMB will ensure any affected Members will supported and protected.

Bakkavor Meals London is a multi-million pound company who provide ready meals to Tesco, Sainsbury's and M&S and these essential workers deserve to be treated with respect and provided with a safe working environment and proper PPE."

Ends
Contact:
Andre Marques, GMB Regional Organiser Organiser, 078 8586 8405
GMB London Region Press Office 079 7001 9643
Notes to editors
Previous GMB press releases
https://www.gmblondon.org.uk/news/gmb-london-call-on-bakkavor-management-to-halt-restructuring-plans-for-the-duration-of-the-public-health-emergency.html
https://www.gmblondon.org.uk/news/gmb-call-on-bakkavor-to-radically-reorganise-production-at-food-plants-for-the-safety-of-staff-and-public.html
https://www.gmblondon.org.uk/news/gmb-london-call-on-pre-prepared-foods-supplier-bakkavor-to-improve-sick-pay-for-staff-self-isolating-in-health-emergency.html