Zero tolerance needed on fly-tipping in East of England as GMB study shows more than 79,700 incidents in 2020-21 with no action on the vast majority of these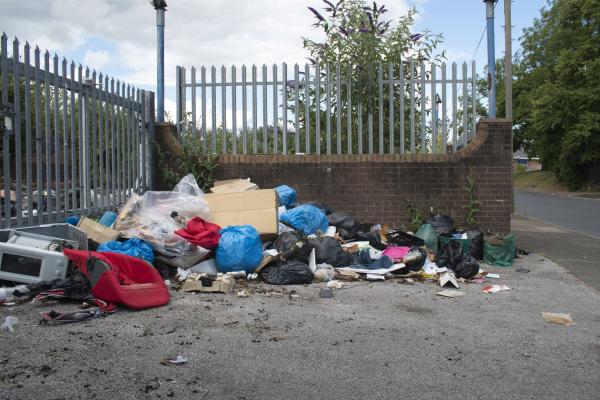 Local authorities need to up their game as GMB Union research shows only 11.7% of fly-tipping incidents resulted in any serious enforcement action being taken
In the year to end of March 2021, 45 local authorities in the Eastern region had to clear 79,726 incidents of fly-tipping. During the same period these councils took 9,292 enforcement actions after the initial investigation to deal with fly-tippers. There was a huge variation both in the number of incidents of fly-tipping and the level of activity by councils in trying to find the perpetrators and punish them.
Councils now have extensive powers to take action against fly-tipping. There can be more than one action per incident and an action takes the form of one or more of the following: Warning letter, statutory notice, fixed penalty notice, duty of care inspection, stop and search, vehicle seized, formal caution, prosecution or an injunction [see notes to editors for definitions].
Central Bedfordshire, Colchester, Tendring and Uttlesford reported no actions taken in 2020-21 against fly-tipping after the initial investigation.
Thurrock was the most active local authority in the Eastern regions with 2,666 enforcement actions being taken after the initial investigation, 239.3% of all incidents. The local authority to take the next highest actions after initial investigation as a proportion of all fly-tipping incidents was Maldon, with 95% (517 actions) followed by West Suffolk (79.1%, 531 actions), Basildon (38.8%, 1,696actions) and Broxbourne (34.4%, 289 actions)
The local authority with the highest number of fly-tipping incidents in 2020-21 was Peterborough with 9,744, 12% of the Eastern region total. Next highest is Welwyn Hatfield with 4,836 fly-tipping incidents followed by Norwich with 4,755, Luton with 4,602 and Basildon with 4,375.
The local authority with the lowest number of fly-tipping incidents in 2020-21 was Uttlesford with 287. Next lowest is Chelmsford with 312 fly-tipping incidents followed by North Norfolk with 473, Babergh with 500 and South Cambridgeshire with 521.
In 2020/21, 39,000 or 4% of total incidents were of 'tipper lorry load' size or larger, costing local authorities in England £11.6m to clear. In the Eastern region clearance costs for these large loads was £747,453.
Clearance costs for other sized categories of tipped waste are no longer produced. As an indicator, in 2016-17, the last time these figures were produced, the cost to the Eastern region councils to deal with just under 75,500 fly-tipping incidents was over £4.3m.
Set out in the table below are the figures for the 45 Councils in the Eastern region, ranked actions after initial investigation as a % of all incidents. The sources and definitions for the data are set in notes to editors below.
Fly-tipping incidents reported and action taken by local authorities in England 2020-21

Total Incidents

Actions after initial investigation

Actions after initial investigation as a % of all incidents

England

1,134,211

139,879

12.3

East

79,726

9,292

11.7

rank

1

Central Bedfordshire

670

0

0.0

2

Colchester

2,357

0

0.0

3

Tendring

1,266

0

0.0

4

Uttlesford

287

0

0.0

5

Norwich

4,755

3

0.1

6

Castle Point

1,163

1

0.1

7

Stevenage

3,156

4

0.1

8

Welwyn Hatfield

4,836

15

0.3

9

Huntingdonshire

2,351

9

0.4

10

South Cambridgeshire

521

4

0.8

11

Fenland

1,300

19

1.5

12

Watford

1,260

22

1.7

13

King's Lynn and West Norfolk

1,188

22

1.9

14

Peterborough

9,744

229

2.4

15

Hertsmere

1,626

41

2.5

16

East Cambridgeshire

943

27

2.9

17

South Norfolk

971

30

3.1

18

Dacorum

1,470

52

3.5

19

Babergh

500

18

3.6

20

East Hertfordshire

1,346

63

4.7

21

Mid Suffolk

565

29

5.1

22

Three Rivers

660

35

5.3

23

North Hertfordshire

1,871

100

5.3

24

Breckland

1,103

67

6.1

25

Brentwood

585

37

6.3

26

East Suffolk

2,252

143

6.3

27

Southend-on-Sea

1,429

92

6.4

28

Epping Forest

3,343

222

6.6

29

Rochford

612

45

7.4

30

St Albans

910

71

7.8

31

Bedford

3,063

254

8.3

32

Luton

4,602

428

9.3

33

Harlow

2,378

234

9.8

34

Broadland

629

64

10.2

35

Great Yarmouth

2,146

268

12.5

36

Ipswich

624

83

13.3

37

Chelmsford

312

54

17.3

38

Cambridge

2,086

459

22.0

39

Braintree

830

213

25.7

40

North Norfolk

473

136

28.8

41

Broxbourne

839

289

34.4

42

Basildon

4,375

1,696

38.8

43

West Suffolk

671

531

79.1

44

Maldon

544

517

95.0

45

Thurrock

1,114

2,666

239.3
Warren Kenny, GMB London Regional Secretary, said:

"Government and local councils have to be more proactive in dealing with fly-tipping incidents. The data for 2020-21 shows far too much variation in the numbers of actions councils take in response to fly-tipping incidents. Many councils take far too little serious action after fly-tipping has been investigated. Councils need to up their game on dealing with this deeply anti-social behaviour.

"These latest figures show that some councils are not as proactive as they should be in dealing with fly-tipping. GMB is calling on all councils to be more active to investigate and punish the anti-social behaviour of fly-tippers.

"There needs to be better education on the costs of dealing with the problem and how people can dispose of rubbish and unwanted items properly.

"Councils must invest in easy to access recycling and disposal facilities for residents to use and offer accessible collection schemes for bulk items.

"Councils have to firmly clamp down on fly-tipping by larger fines, investment in surveillance equipment and rigorous investigation of incidents and follow up action. Some councils have a poor record on this which encourages an attitude of impunity. A uniform policy, across the Eastern region of punishing cowboy builders identified fly-tipping to confiscate their vehicles would send the right message.

"W

e need a policy of zero tolerance with action against fly-tipping on all fronts at all times."

End

Contact: Tony Warr, GMB London Region Senior Officer 077 1063 1336

Shaun Graham, GMB London Region Senior Officer 078 8570 6556

Notes to editors:

1) Source: Department for Environment, Food & Rural Affairs Waste and Recycling statistics. Fly tipping incidents and actions taken reported by local authorities in England, 2020-21.

www.gov.uk/government/statistical-data-sets/env24-fly-tipping-incidents-and-actions-taken-in-england

2) Fly-tipping is the illegal deposit of waste on land. These fly-tipping incidents are those reported to local authorities and do not include the majority of incidents on private land.

3) Enforcement actions taken by councils

It should be noted that multiple actions can sometimes be carried-out on one particular incident.

Investigation

The enforcement team has recorded the incident, identified the evidence available and has either decided the action to be taken or is considering this. If a decision has been made the incident could also have generated other actions in the list.

Warning letter

A warning letter has been sent or handed to the perpetrators or the land occupiers/owners.

Statutory notice

A statutory notice related to fly-tipping has been served on the perpetrators or land occupiers/owners. This would include s59 and s71 of the Environmental Protection Act. It may also include community protection notices where the intention is also to control fly-tipping.

Fixed penalty notice

Local authorities have the power to issue fixed penalty notices of up to £400 for small scale fly-tipping as an alternative to more costly prosecutions in England.

A fixed penalty notice has been served on the perpetrators in connection with a waste offence regardless of whether it has been paid. This refers to use of s88 of the EPA (but only when used against small scale fly-tipping), s34A of the EPA (failure to furnish documentation), s47ZA of the EPA (offences relating to waste receptacles) and s5B and s5C of COP(A)A 1989 (failure to produce authority).

Duty of care inspection

A business has been asked to provide waste transfer notes or a household is investigated for possible breaches of their duty.

Stop and search

A stop operation has been held in conjunction with the Police and waste carriers asked to produce evidence that they are registered waste carriers. It may also include other agencies/other checks.

Vehicles seized

Where a vehicle has been seized as it is believed to have been involved in fly-tipping.

Formal caution

A formal caution has been issued. If a number of offences relate to one incident, count each formal caution for each offence.

Prosecution

Each prosecution case taken to court regardless of the outcome. If several prosecutions are taken against a perpetrator/suspect even if this relates to just one incident, you should include all the prosecutions. E.g. if prosecuting two suspects each under section 33 and 34 of the EPA count this as four prosecutions. You will need to estimate and total your own costs of preparing the case(s) and taking them to court but exclude costs that have been recorded elsewhere (e.g. costs of surveillance).

Injunction

A magistrate's court has issued an injunction to an individual or business that has failed to take the action required by a statutory notice.