Demo of GMB London Region members outside Edwardian Mayfair Hotel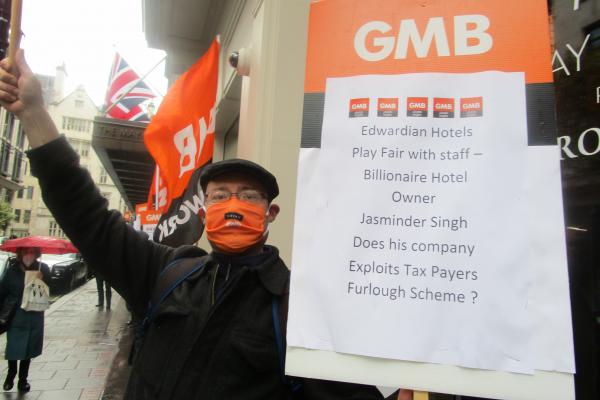 At a demonstration held on 29th October, GMB London Region members employed by the Edwardian Mayfair Hotel protested about being told by the hotel management that their holidays must be taken before the end of October when the furlough scheme ended.
The law allows employers to determine when an employee can take holidays, this a sensible measure to stop all staff from taking holiday at the same time. However, as these staff were not in work this is not the reason for demanding that they take their holidays when being paid by furlough funds.
Many staff have also been told to accept a 50% reduction in hours of work or they face dismissal if they do not accept this drastic change. The new contract has a lay-off clause and does not guarantee paid work.
Michael Dooley, GMB London Region Officer said:
"We feel that Jasminder Singh's organisation is acting in a grubby manner, any honourable man would do the right thing and cancel this instruction and allow his staff to use the new law to carry holidays over for the next two years. Decent employers have not resorted to this level and are playing fair with their staff; however, we know sadly, not all employers do play fair."
He added, "we are in hard times and in hard times we pull together and do not take advantage of a tragic situation, some employers like the Edwardians of this world do not seem to have that pulling together sentiment".
You can watch the demonstration at the Edwardian Mayfair Hotel video here.
The next protest meeting is scheduled for 12:00 14:00, Thursday 10th December.