Local Government and Schools Pay Offer 2020/21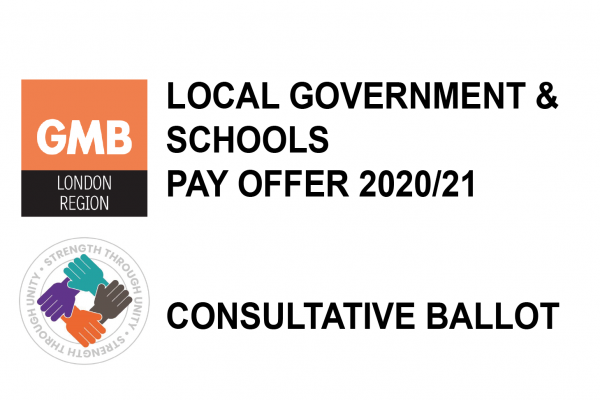 IMPORTANT- MAKE SURE YOU VOTE IN THE BALLOT, TO HAVE YOUR SAY ON YOUR PAY
Ten years of austerity resulted in our members in Local Government and Schools suffering real terms pay cuts of up to 22%. GMBs' Pay Justice Campaign, for Local Authority and Schools workers, called for a 'catch up' pay award to reverse the cuts to living standards experienced by so many and for the pay increase to be fully funded by Central Government.
Following extensive consultation, the joint union pay claim submitted to Local Government Employers asked for the following:
A real living wage of £10 per hour to be introduced for National Joint Council (NJC) SCP 1 and a 10% increase on all other NJC/GLPC pay points.
A one-day increase to the minimum paid annual leave entitlement set out in the Green Book.
A reduction in the standard working week set out in Green Book to 35 hours (34 hours in London) with no loss of pay.
A comprehensive joint national review of the workplace causes of stress and mental health throughout local authorities.
The pay negotiations with the employers' side of the National Joint Council (NJC) for Local Government and Schools workers have now concluded, and the employer has tabled a final offer. The details of the offer can be found at https://www.gmb.org.uk/sites/default/files/160420_lga_revised_offer.pdf . It is important you read this information as it will enable you to make an informed decision as to whether you wish to accept or reject the National Employers pay offer. You can also access FAQs HERE
Whist the offer does not meet the aspirations of GMB and our members, as a democratic Trade Union, GMB believe it is for our members to decide whether the offer is accepted or rejected. This is done by way of a consultation ballot.
Consulting with members about their pay is one of the most important roles of GMB. To ensure maximum participation of all GMB members, within Local Government Government/Schools/Academies whose terms and conditions are governed by the NJC, in the consultation ballot the closing date is 30th July 2020. The results will be announced shortly afterwards.