Our summary of the Schools Conference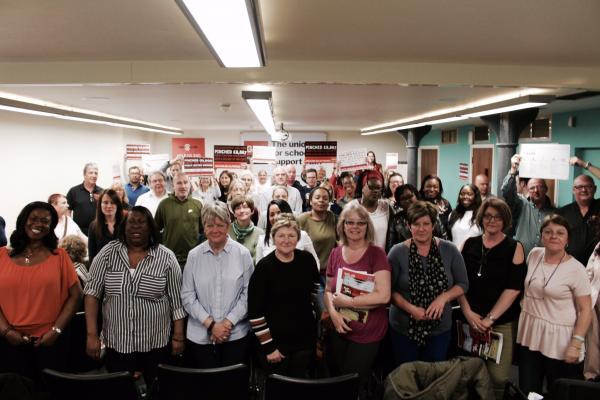 Guest speakers at the conference included the MP for Feltham & Heston, Seema Malhotra who spoke about the Labour Party's commitment to proper funding for our schools. We also heard from London Regional Secretary Warren Kenny and National School Organisers Karen Leonard and Sharon Wilde, both former school support staff. They all spoke about the incredible work been done by our members in schools and the enormous challenges they face every day.
We also heard from two schools activists who told the delegates about how they are challenging the cuts and restructures in their schools, and with the right support and organisation how school support staff can fight the cuts.
Daren Parmenter from the London Region Schools Team also did a presentation on the recent 'Above and beyond' survey which highlighted just how much unpaid work is being carried out by school support staff, and how their goodwill keeps cash-strapped schools going.
Delegates from all over the regions contributed to some fantastic discussions about what the GMB can do to support our members working in the most challenging of times. The conference concluded with a discussion on the issues that the GMB will take forward which included support staff working their contracted hours, addressing the widespread practice of support staff regularly covering for absent or non existent teaching staff and violence in schools. The conference ended on a very positive note that with the right support and campaigns we can change and improve life for our members working in schools.