Refuse workers in Waltham Forest protest about pay and conditions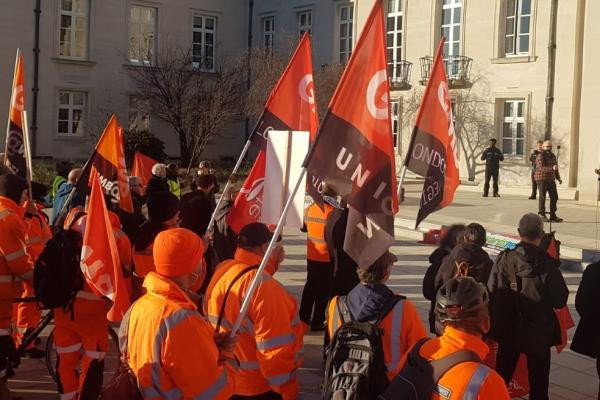 GMB London members in Waltham Forest waste and cleansing services - pictured on 13 January 2022, are raising issues about conditions with GMB, similar to those giving rise to the current successful resurgence of action in refuse services across the UK
At a protest on Thursday 13th of January 2022 outside Waltham Forest Town Hall, GMB and Unite members protested whilst the Cabinet met, making their voices heard about their anger and dissatisfaction over pay and conditions.
GMB has many members working in the waste, recycling and cleansing sector, our members working in the London Borough of Waltham Forest say that throughout the pandemic they have continued to provide essential services to residents of the borough but have not been rewarded with decent pay and conditions. Like many other GMB refuse workers in Glasgow, Brighton, Eastbourne, Dudley and Coventry our members are joining the fight for better pay and conditions.
Michael Dooley, GMB London Region Organiser said:
"GMB members alerted the Council so that the Council is aware in no uncertain terms that there is a genuine feeling of anger among the men and women who keep Waltham Forest clean, that the cause of that anger should not be ignored."
Contact:
Michael Dooley, GMB London Region Orgnaiser 077 7306 1798 or Michael.dooley@gmb.org.uk