Retired Branch Secretary Will Conway awarded Certificate of Merit and Long Service Award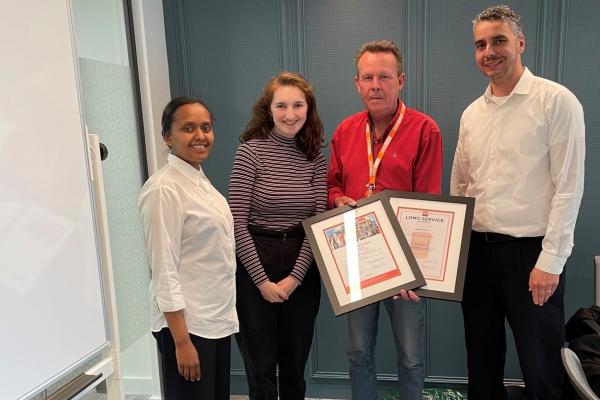 On Thursday 12th May, GMB London was proud to present Will Conway with two certificates, a Certificate of Merit for service to GMB and the other a Long Service Award.
Anna Meyer, GMB London Region Organiser said:
"I am very pleased to say at the H48 Branch meeting I was able to present these awards to Will on behalf of GMB London Region. Will was the Branch Secretary of the H48 Houses of Parliament Branch for over 25 years until his retirement last year.
"Will provided so much support for his members during this time, both on an individual basis and in negotiating with the House of Commons in respect of pay and their terms and conditions. During his time as Branch Secretary, Will also held the role of the Joint TUS Secretary for the unions for a while. He still remains a part of the branch.
"At the hybrid branch meeting Marlos Pereira, current Branch Secretary spoke of Will's many achievements during his time as Branch Secretary. Also at the presentation was Chair of MP's staff side Jenny Symmons, and Betelihem Dawit, rep at the House of Commons."
GMB London Region wishes to thank Will for his tireless dedication to the role that he held for such an incredibly long time. The help and support that Will has provided to our members during this time is remarkable and a true credit to Will.