Posthumous Award for GMB London Region Political Officer, Gary Doolan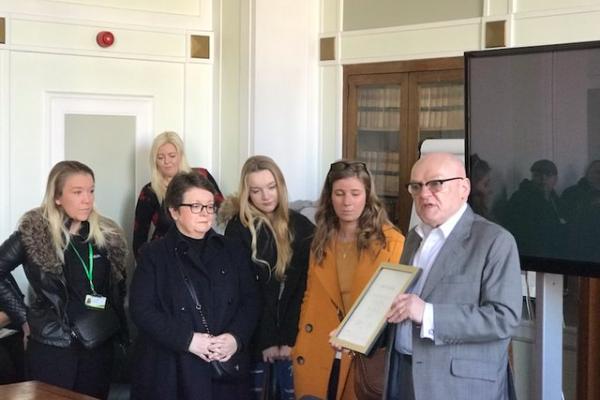 GMB London Region Political Officer, Gary Doolan, receives Posthumous Award from Labour Party
On Tuesday 19th February Marian Healy and Vaughan West, from GMB London Political Department, had the pleasure to be invited to the Islington and Haringey Branch meeting in Islington Town Hall, to present Gary Doolan's family with a posthumous merit award from the National Executive Committee of the Labour Party.
Last October Vaughan accepted the award, on behalf of the family, that was presented by Jenny Formby, the Labour Party General Secretary, at the Labour Party Eastern Regional Conference in Norwich. Vaughan promised the conference we would find a suitable event, that the family could attend, to give them the award to them. Nothing could be more suitable than a well attended meeting of the branch where Gary had come from and where he had been the Branch Secretary for many years, in the Town Hall where he had been a Labour Councillor for 12 years.
Marian and Vaughan were delighted to meet up with the family again and to be able to at last, make sure the award was going to where it belonged.
Gary was a passionate GMB lay activist, Branch Secretary, Regional Committee and CEC member, and National Political Officer before becoming the GMB London Region Political Officer.
He was an equally passionate Labour Party activist, Islington Councillor and Chair of the Labour Group. Gary developed the Region's political strategy, which we continue with, since his sad and premature death, making sure that our industrial work is inextricably linked to our political work, as Richard Watts, the Leader of Islington Council, said at his funeral, one of Gary's great strengths as a Councillor was that he reconnected Islington Labour with its working class roots.
The branch members arose and applauded as one, as the award was handed over, to give Gary and his family a standing ovation.
RIP Gary Doolan, our dear friend and colleague, you are sadly missed but will never be forgotten
Vaughan West presenting award to Gary's family
Gary Doolan