12 more days to follow day 16 strike today at British Gas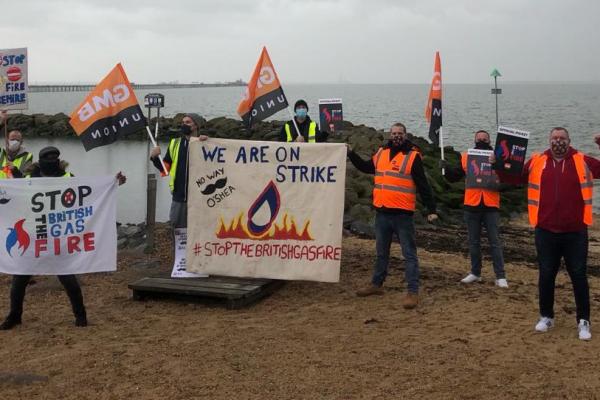 British Gas engineers strike day 16 today to be followed by 12 new strike dates as GMB executive determines action to mid-April in pay and conditions dispute 
British Gas boss O'Shea is pressing on with 'fire and rehire ' despite telling Parliament it was his acceptance of dodgy legal advice that led to strikes, says GMB London
GMB London and East of England members at British Gas will take part in 12 more days of strike action in the ' fire and rehire' dispute to follow day 16 strike today on Monday, February 8th. See notes to editors below for links to preview GMB London press releases.
This new industrial action will be in three lots of four-day strikes, each beginning at 00.01 hours on February 12th, February 19th and February 26th - ending at 23.59 on March 1.
This action was endorsed at a meeting of GMB's Central Executive Council (CEC) on Tuesday 2nd February that determined action until the middle of April.
The CEC in determining on action through to mid-April considered the following issues:
A profitable British Gas persists with the bogus claim of a crisis to threaten and bully staff with 'fire and rehire'
This is even though Mr O'Shea has now admitted it is based on dodgy legal advice that "contaminated the negotiations".
Three months after Mr O'Shea arrived, industrial relationships were thrown into turmoil and strikes. Instead of recognising his mistake, he is doubling down on his plans.
Wishful thinking in the extreme persists that union members will ever acquiesce to pay 15% below agreed rates and other adverse changes.
British Gas appear to have little concern for its customers. After 12 days of strikes, more than 170,000 homes are in a backlog for repairs and 200,000 planned annual service visits were axed. The company is misleading the media that it is catching up after 24 hours.
GMB members in the Field Engineers bargaining group are solid after twelve days of strikes against the new contract.
The only votes that count in this group are those of the Field Engineers themselves. The 83% figure mainly covers other bargaining groups so it has no relevance to this dispute.
Gary Pearce, GMB London Region Senior Officer for Energy, said:
"The Central Executive Council (CEC) concluded the British Gas CEO is doubling down on his fire and rehire cuts in pay and conditions for Field staff.
"In response, the CEC determined on action through to mid-April.
"Mr O'Shea is pressing on despite telling Parliament that his acceptance of dodgy legal advice led to strikes and the breakdown of trust with his field staff.
"This is turn has led to more than 170,000 households already in a backlog for repairs and 200,000 service visits axed.
"The 83% figure is not relevant in that it mainly includes staff from other bargaining groups.
"The majority of the field staff are not prepared to accept the imposed cuts to pay and conditions.
"Mr O'Shea threw down the gauntlet to the gas engineers on fire and rehire and they picked it up.
"The CEC determined they should be supported on behalf of the entire membership of the union and other union members.
"Longer term the practice of fire and rehire should be outlawed.
"The CEC will consider the matter again at its April meeting."
Ends
Contact
Gary Pearce, GMB London Region Senior Officer for Energy 078 5003 6952
Notes to editors
GMB London Region press release 3rd February 2021
GMB London - Dodgy legal advice led to strikes, British Gas CEO tells Parliament
GMB London Region press release 1st February 2021
GMB London - GMB announce new four-day strike from Friday 5th February
GMB London Region press release 28th January 2021
GMB London - British Gas is accused of lying about the 'fire and rehire' notices
GMB London Region press release 25th January 2021
GMB London - Reckless British Gas leave more than 150,000 homes waiting for services
GMB London Region press release 22nd January 2021
GMB London - GMB London Gas members burn "fire and rehire" notice in act of defiance
GMB London Region press release 6th January 2021
GMB London - NATIONAL FIVE DAY STRIKE BY GMB MEMBERS AT BRITISH GAS BEGINS AT 00.01 ON THURSDAY, 7 JANUARY 2021 OVER 'FIRE & REHIRE' CUTS IN PAY
GMB London Region press release 5th January 2021
GMB London - The British public should ask why the CEO of a company that made operating profits of almost a billion pounds is provoking an engineers' strike
GMB London Region press release 23rd December 2020
GMB London - GMB presented the Scrooge of the Year Award 2020 to Mr O'Shea