Bexley, Barking and Dagenham, Bromley, Kingston and Harrow Councils at bottom of league must up action on fly tipping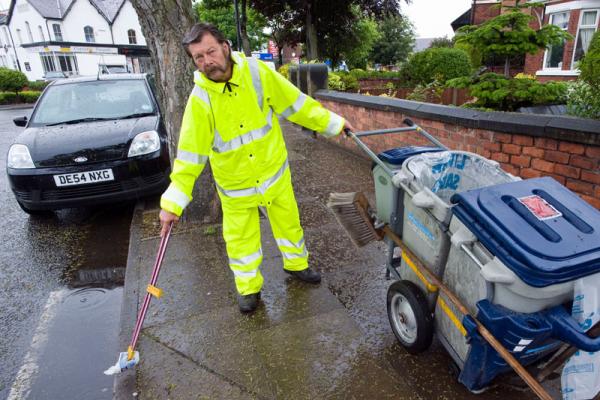 ZERO TOLERANCE ON FLY TIPPING ESSENTIAL AS GMB STUDY SHOWS POOR LEVELS OF ACTION BY SOME LONDON COUNCILS ON 360,000 INCIDENTS IN LONDON IN 2019/20
Some councils take far too little action and Councils like Bexley, Barking and Dagenham, Bromley, Kingston upon Thames and Harrow, at bottom of the London league, must up their games for action on fly tipping says GMB London
Camden topped the league table of London boroughs with the highest number (34,465) of fly tipping incidents recorded in 2019/20. The other boroughs in the top five were Brent with 34,197, Croydon 25,532, Harringey 22,972 and Hounslow 22,480.
This is according to a new study of fly tipping incidents in London from official data by GMB the union for refuse and street cleaning workers. The sources and definitions for the data are set in notes to editors below.
Overall across London as a whole some 360,080 incidents of fly tipping were recorded in 2019/20. This was an increase of 11% on the previous year. The number of incidents recorded in each borough in London, ranked by the number of incidents, are set out in the Table below with the % change on the previous year.
The data on the costs of dealing with fly tipping by borough is not included in the Table this year as the information provided by councils is too patchy. Data on the numbers of prosecutions in the courts on fly tipping incidents is even more patchy still, indicating a very low levels of prosecutions.
Also set out in the Table are the numbers of action taken by borough councils to combat and punish fly tippers. In 2019/20, the five councils with the highest number of actions are: Camden (40457), Wandsworth (14617), Waltham Forest (14355), Redbridge (7560) and Ealing (6791). In 2019/20, the five councils with the least number of actions are: Bexley (102), Barking and Dagenham (157), Bromley (211), Kingston upon Thames (482) and Harrow (553). This colum is an important indicator of the levels of priority given to the issue in each borough council.
Local Auhority

Fly Tipping Reported Incidents

% difference on 2018/2019 (incidents)

Total Actions

London

360,080

11%

157,220

Camden

34,465

34%

40,457

Brent

34,197

43%

5,891

Croydon

25,532

15%

2,660

Haringey

22,972

8%

576

Hounslow

22,480

3%

3,253

Redbridge*

19,897

7,560

Southwark

17,872

24%

2,654

Westminster

15,283

2%

5,734

Hammersmith and Fulham

13,322

-21%

1,352

Ealing

13,115

5%

6,791

Merton

13,047

14%

4,737

Hackney

12,190

-10%

1,316

Greenwich

11,795

-26%

822

Harrow

11,151

-18%

553

Newham

11,145

-24%

1,724

Hillingdon

10,434

-2%

2,695

Waltham Forest

9,260

-2%

14,355

Tower Hamlets

7,365

-20%

6,553

Lambeth

6,638

23%

1,823

Kensington and Chelsea

6,490

-5%

6,692

Enfield

4,979

-4%

6,317

Wandsworth

4,745

-12%

14,617

Lewisham

3,842

8%

1,269

Sutton

3,823

21%

985

Barking and Dagenham

3,794

31%

157

Barnet

3,420

58%

1,869

Havering

3,380

-15%

5,744

Richmond upon Thames

2,887

-20%

1,208

Bromley

2,821

-11%

211

Bexley

2,552

19%

102

City of London

1,804

20%

2,255

Islington

1,764

23%

3,806

Kingston upon Thames

1,619

2%

482

*Redbridge did not provide data for 2018/19 before publication of results in November 2019
Tony Warr, GMB Acting London Regional Secretary, said: "Government and local councils have to be more proactive in dealing with fly tipping incidents. The data for 2019/20 shows far too much variation in the numbers of actions councils take in response to fly tipping incidents.
Some councils take far too little action. Councils like Bexley, Barking and Dagenham, Bromley, Kingston upon Thames and Harrow, at bottom of the London league, must up their games for action on fly tipping
There needs to be better education on the costs of dealing with the problem and how people can dispose of rubbish and unwanted items properly.
Councils must invest in easy to access recycling and disposal facilities for residents to use and offer accessible collection schemes for bulk items. Recent restrictions on using recycling centres due to the pandemic in terms of capacity and access without bookings need to be rolled back. They must not become permanent or make access to them more difficult.
Finally, councils have to firmly clamp down on fly tipping by larger fines, investment in surveillance equipment and rigorous investigation of incidents and follow up action. Some councils have a poor record on this which encourages an attitude of impunity. A uniform policy, across London, of punishing cowboy builders identified flytipping to confiscate their vehicles would send the right message.
We need a policy of zero tolerance with action against fly tipping on all fronts at all times."
ENDS
Contact: Keith Williams 07710 631 339 or Tony Warr 07710 631 336 or Press Office 07970 019643.
Notes to editors
Sources and definitions
Source: Table: Fly-tipping incidents and actions reported by local authorities 2019-20, https://www.gov.uk/government/statistics/fly-tipping-in-england
Source: Defra, WasteDataFlow
Notes from original dataset
For the 2019/20 incident data there has also been a change in methodology, whereby the national totals are based on the data as reported by local authorities in WasteDataFlow and only include estimates for non-response. This methodological change has been applied to the 2018/19 to enable comparisons to be made. These changes do not affect the enforcement action and prosecution data.
For the 2019/20 year, Defra undertook a check with all local authorities around the basis of reporting in order to improve transparency in reported data. An additional question was added to WasteDataFlow to capture the reporting basis for each local authority. Around 13% of local authorities reported that they were either just providing figures based on customer reported fly-tips only or just those incidents reported by staff.
In previous years, estimates were made for 'all incidents' for a small number of local authorities where it was known that the local authorities reported figures were not based on 'all incidents '. These estimated figures were included in the national incident totals but not in the local authority level dataset. For 2019/20, for those local authorities that are not reporting 'all incidents', no estimates have been made for 'all incidents'. This was due to the number of local authorities concerned and lack of data to make reliable estimates for 'all incidents'. This means that the 2019/20 national totals are, as the figures are reported by the local authorities to WasteDataFlow and only include estimates for non-response and missing data.