GMB London awarded President's Leadership Award for Equality 2017 at GMB Congress in Plymouth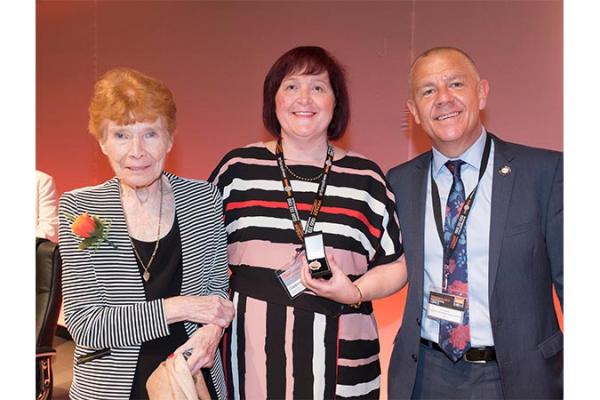 GMB London awarded President's Leadership Award for Equality 2017 at GMB Congress in Plymouth
GMB London has been awarded the President's Leadership Award for Equality 2017 for the 'Mental Health at Work Training' project at GMB Congress today (Sunday, 4th June 2017) in Plymouth in the 'most inspirational project for making a difference' category.

The Mental Health at Work Training project came about as a result of a motion to the GMB Regional Equality Conference asking for training for shop stewards/reps to have a better understanding when dealing with workplace issues surrounding mental health and equipping them with the necessary information to signpost members along with support to negotiate proper reasonable adjustments within the workplace.

GMB London had two very successful pilot training days with stewards/reps giving them confidence and better understanding when approached by members and providing them with a model policy to take back to their workplace to implement.

The award was presented by Mary Turner, GMB National President, on Sunday 4th June.

The 100th GMB Congress, comprising of 500 elected lay members and 300 visitors and guests, started today (Sunday 4th June) and runs until Tuesday 6th June at Plymouth Pavillions. GMB Congress delegates were elected from the GMB membership to represent over 640,000 members from every part of the UK and Ireland and every sector of the economy. Congress is the supreme policy making body in GMB.

Warren Kenny, London & Eastern Regional Secretary, said
"'The Mental Health at Work Training project is central to the work GMB do in fighting for equality. The project is instrumental in giving our reps a better understanding to deal with workplace issues around mental health.
"I am extremely proud to see our region represented by such dedicated activists."
Sue Hackett, GMB Regional Equality Organiser, said

"It is an enormous privilege to work with such amazing and committed activists working so hard to improve the working life of our under-represented and vulnerable members. GMB at its very best, when it is lead by its members."
ENDS

Contact: Sue Hackett on 07813 542 070
Notes to Editors

Photographs are available from Andrew Wiard Photographer on andrew@reportphotos.com