Exciting beginning for members at Heathrow employed by Wilson James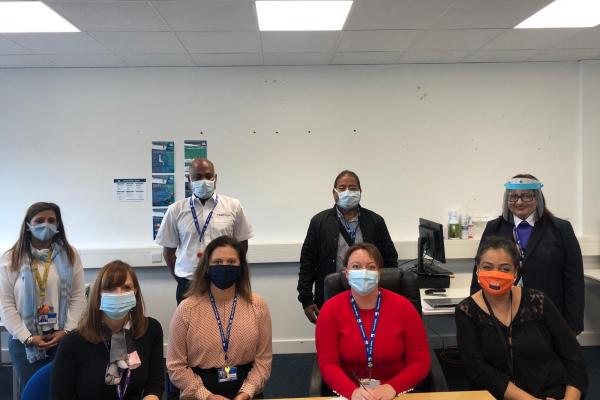 GMB LONDON WELCOME UNION RIGHTS AND BARGAINING AGREEMENT WITH WILSON JAMES ON MOBILITY CONTRACT AT ALL HEATHROW TERMINALS 
Members have found this company a breath of fresh air with their integrity, honesty, and putting their people first which is everything we stand for, says GMB London
GMB London, the union for staff at airports, has signed a recognition agreement covering union rights and collective bargaining with Wilson James on the mobility contract at all the Heathrow airport terminals.
Wilson James now holds the contract to provide assistance services for passengers with reduced mobility at Heathrow terminals 2,3,4,5.
The company first won a contract from ABM who had the contract with HAL (Heathrow Airport Limited) in November 2019 to run the business in Terminal 5 for a year. One year later this company has now won the contract from ABM for terminals 2,3,4,5 for an initial 4 years, then based on performance another 3 years, so a 7-year deal.
In total, more than 850 staff are employed on the contract across all the terminals.
Trevlyn McLeod, GMB London officer for airport staff, said:
"GMB has been working with Wilson James at Heathrow for just going on a year now.
"Members and myself have found this company a breath of fresh air with their integrity, honesty, and putting their people first which is everything GMB stands for.
"It is such an exciting beginning to now have recognition with Wilson James for our members and it is good to know that this a company who wants to work together with GMB for the best interests of its staff and our members.
"We intend with the company to always do what's right for our members and work with them to provide a first-class service to passengers.
"Where there are disagreements, we intend to find solutions together, through discussions and negotiation. GMB believes there is nothing that cannot be worked through with dialogue where there is a willingness to find solutions by both parties to this agreement."
Heather Mandizvidza, Strategic Account Director (Heathrow) Wilson James Limited
"Wilson James is proud to have consistently worked in partnership with many of our union colleagues across Heathrow Airport. We are committed to meaningful discussions and collaborative working, underpinned by our corporate values of respect and honesty. We welcome this partnership with GMB and look forward to working with them for the benefit of our employees and our business, alongside our other Trade Union partners."
End
Contact:
Trevlyn McLeod, GMB London Region Organiser 079 6813 7967