GMB Activists vow to stamp out antisemitism in the movement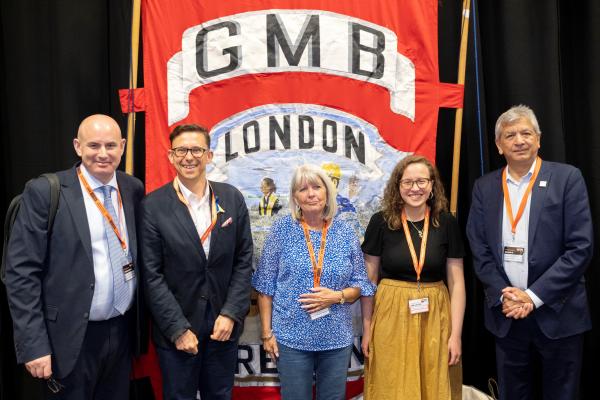 GMB London and Jewish Labour Movement host first-ever antisemitism education training for GMB members at Congress.
The session, similar to those given to Labour MPs and members, was delivered by the Jewish Labour Movement and covered antisemitism awareness, the long history of Jewish people in the movement and their shameful treatment in recent years.
The packed-out event kickstarts a series of branch-level training sessions for activists in London Region in order to guarantee the Union is a safe space for Jewish members.
Mike Katz, Jewish Labour Movement National Chair said:
"Under strong leadership from General Secretary Gary Smith, the GMB practice what they preach. It was a privilege to stand shoulder-to-shoulder with our trade union allies who are committed to fighting antisemitism.
The Labour movement has not been safe for our members in recent years and it's only through sessions like this with fellow activists that we will detoxify culture and rebuild trust. This is a great example which other unions should follow."
Rebecca Filer - National Organiser, Jewish Labour Movement said:
"This was our first time delivering our antisemitism awareness education to a trade union conference, and we were delighted to do so at GMB Congress given the union's Jewish history and ties to the Jewish trade union movement.
Antisemitism does exist in the Trade Union movement, the left and in workplaces so equipping members to understand it absolutely vital to challenge it."
GMB London Regional Secretary, Warren Kenny said:
"Antisemitism is on the rise and this week London region led the charge committing our union to uncompromisingly tackle this issue and for perpetrators to face the full force of the law. 
"It was a privilege to then host, hear and be advised by the Jewish Labour Movement (JLM). Tackling antisemitism and hate in all its forms is central to our work and this training package for our branches is vital in order to root out the scourge of antisemitism."
Ends
Contact: Contact: GMB London Press Office 079 6744 0 297 – 079 7001 9643 – london.press@gmb.org.uk