GMB ballot at Anglian Windows due 5th July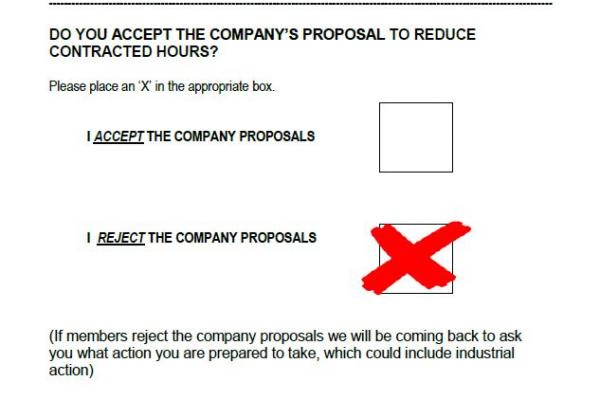 GMB Union ballot Anglian Windows members upon proposal to cut staff working hours and pay
Anglian Windows need listen to their dedicated trained workforce, says GMB London

GMB Union, the trade union for Anglian Window workers, is balloting our members following a recent offer put forward by Anglian Windows.
The proposal which was originally briefed to the workforce on 30th May 2019 has improved from a 16% decrease in wages to an 8.3% decrease in wages. Alongside the decrease the company also propose to utilise Agency Staff to do the work which is currently done by Anglian Windows staff.
Extensive feedback received from our member's highlight that they are likely to OPPOSE to implementation of this proposal.
Members will receive their ballot papers over the next few days and have been asked to meet at the Gas Club, Norwich on Friday 5th July at 2pm where the indicative ballot papers will be counted.
Keith Dixon, GMB Regional Organiser said:

"I have met with the company and communicated our concerns however feel that the Anglian Windows fail to understand the gravity of our member's feelings upon this.
"I have offered to the company the opportunity to open negotiations to look to see if there is an amicable solution which could be secured however at this stage there has been a refusal by the company to have further talks

"I am also concerned upon the way in which Anglian Windows feel they can breach the trust of our members by offering such a poor proposal

"GMB will be behind every one of our members in making sure their voices are heard and are recommending this current proposal is OPPOSED.
"I have given an invitation for Anglian Windows to negotiate, subject to members approval, and will communicate the indicative ballot results to the company following the members meeting on 5th July 2019"

ENDS

Contact: Keith Dixon 07703 469403 or GMB London Press Office 0758 303 9451
1] GMB oppose Anglian Windows plans to cut staff hours and pay
https://www.gmblondon.org.uk/news/gmb-oppose-anglian-windows-plans-to-cut-staff-hours-and-pay