GMB calls for withdrawal of Hillingdon Council sick pay proposal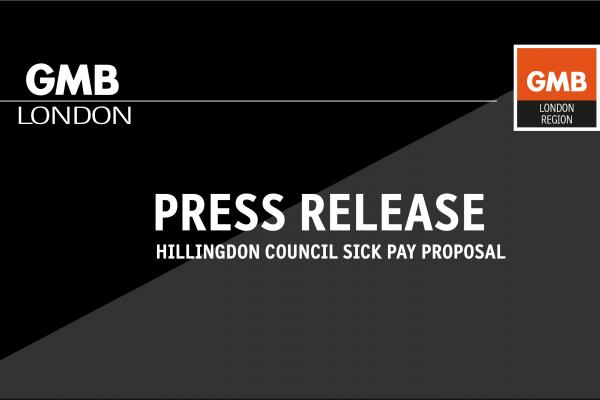 GMB calls on Hillingdon Council to withdraw proposal to stop paying sick pay for the first three days
The council's proposal is double standards at its worst and an affront to its hardworking employees, says GMB London

GMB are calling on Hillingdon Council to withdraw its proposal to stop paying sick pay for the first three days in order to save money as part of their budget saving strategy.

Keith Williams, GMB Senior Organiser said:

"The period from 2010 to the present day has seen massive funding cuts across all councils, owing to the governments unfair and unjust impositions on council budget spending, the impact of which is that council workers and school support staff are doing more to retain and deliver services with less people which in turn leads to sickness.

"The council's proposal is an affront to its hardworking employees, especially when it has been well documented in Freedom of Information requests that between August 2016 and August 2017 Hillingdon Council spent £215,000 employing lawyers to oppose the Heathrow expansion.

"It has also been reported previously between January 2007 and December 2014 the council spent £602,860 on anti-Heathrow lobbying, whilst cutting budgets to services and restructuring with fewer staff.

"This is double standards at its worst, it's OK for the council to channel public money into the pockets of lawyers to fund a political campaign, but it's not OK to pay workers for three days who are too ill to go to work.

"It is no coincidence that the council's proposals to stop paying sick pay for the first three days were put forward prior to the National Employer for Local Government tabling a formal two-year pay offer to the trade unions who represent local authority workers.

"So much for the season of goodwill, this is a classic case of bah humbug, the National Employers offering a pay increase in one hand and Hillingdon Council playing Scrooge and proposing to take it back in the other so that loyal and dedicated staff who are unable to attend work due to sickness can self finance the offer from next April."
ENDS

Contact: Keith Williams 07710 631339 or GMB Press Office 07970 114762