Pimlico resident given Commercial Services award at GMB Congress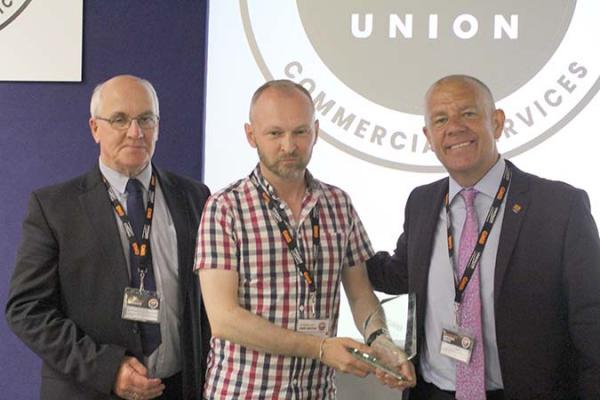 Pimlico resident given commercial services activist award at GMB Congress in Brighton
Mark has played a vital role in organising other reps, organising members, recruiting members and raising the profile of GMB@RCN, says GMB London
Pimlico resident Mark Platt received the GMB Commercial Services Section "Dave Lyons" Award, which acknowledges the Commercial Services Section Outstanding Activist, today (Sunday 3 June) at GMB Congress in Brighton.
Mark, who represents the GMB@RCN (Royal College of Nursing), organised drop-in sessions for reps on a rotational basis and developed a database of reps so members could communicate easily with them. He also developed a fact file to inform members about the benefits of being a GMB member.
Mark was presented the award by GMB General Secretary, Tim Roache.
The 101st GMB Congress in Brighton comprises of 500 elected lay members and 300 visitors and guests. GMB Congress delegates were elected from the GMB membership to represent over 640,000 members from every part of the UK and Ireland and every sector of the economy. Congress is the supreme policy-making body in GMB.
Warren Kenny, GMB Regional Secretary said:
"Mark has played a vital role in organising other reps, organising members, recruiting members and raising the profile of the GMB@RCN.
"The Committee were faced with a very difficult task this year in selecting which of the nominated activists should receive the award. The calibre of the nominations was extremely high, but Mark's track record of working on behalf of GMB members means that he was the unanimous choice and a very worthy recipient.
"The late Dave Lyons (the former Chair of the G4S National Negotiating Committee, whose memory the award commemorates), was a good friend to this section and I know that he would have approved of the Committee's decision to honour Mark with this award."
ENDS
Contact: Keith Williams 07710 631 339 or GMB London Press Office 07970 114 762