Hertfordshire resident given Mary MacArthur Health & Safety runner-up award at GMB Congress in Brighton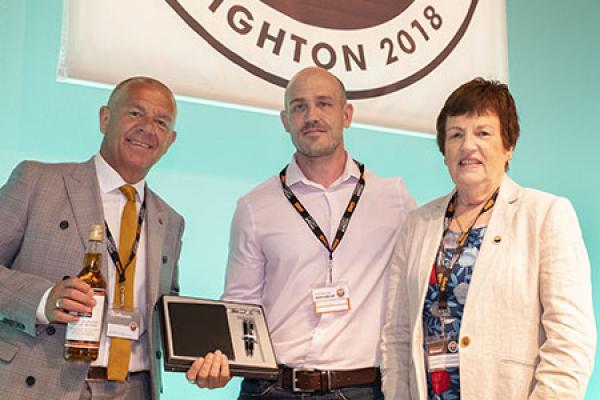 Hertfordshire resident given Mary MacArthur Health and Safety runner-up award at GMB Congress in Brighton
Grant's outstanding leadership in health and safety within the workplace has predominantly pushed back the boundaries that were being diminished by the authority, says GMB London
Hertfordshire resident Grant Bennett received the GMB Mary MacArthur Health and Safety Representative of the Year runner-up award for his work defending the Trade Union and Labour Relations Act (TULRA) during an employment tribunal against the London Borough of Camden, today at GMB Congress (Sunday 3 June) in Brighton.
Grant took his employer to employment tribunal, after they failed to grant him time off as a safety representative, to attend a TUC training course. The tribunal resulted in a successful victory, as he was awarded £2,500 in compensation plus the Employment Tribunal fees incurred. [See notes to editors for previous GMB press release on Grant Bennett]
Grant worked in the Transport section of the London Borough of Camden. His employment ended in late October 2017 after 16 years of continuous service.
The 101st GMB Congress in Brighton, comprises of 500 elected lay members and 300 visitors and guests. GMB Congress delegates were elected from the GMB membership to represent over 640,000 members from every part of the UK and Ireland and every sector of the economy. Congress is the supreme policy making body in GMB.
Warren Kenny, GMB Regional Secretary said:
"Grant has excelled all expectations as a Health and Safety Officer within his work place at York Way Depot in Camden.
"His extensive knowledge in the field has allowed him to become an integral and valuable member of the Camden Branch of the GMB Trade Union successfully raising safety concerns, being at the forefront raising awareness and representing our member's at various levels across the authority, always willing to offer advice and guidance.
"He also wasn't afraid to sacrifice his employment for his beliefs and convictions on health and safety issues within the work place.
"Grant's outstanding leadership in health and safety within the workplace has predominantly pushed back the boundaries that were being diminished by the authority. This award will validate Grants gritty persistence and determination to make a difference."
ENDS
Contact: Dennis McNulty 07803 411 315 or Shaun Graham 07885 706 556 or GMB London Press Office 07970 114 762
Notes to Editors
Previous GMB press release
GMB London branch officer wins employment tribunal case (26 June 2017)
https://www.gmblondon.org.uk/news/gmb-london-branch-officer-wins-employment-tribunal-case-against-london-borough-of-camden