GMB London nominated five Food Banks to receive a donation of £1,000 Each from the TUUT Charitable Trust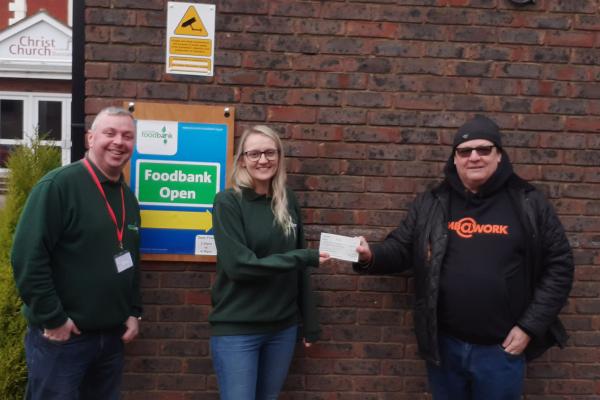 GMB London nominated five Food Banks to receive a donation of £1,000 Each from the TUUT Charitable Trust
Food banks in Ealing, Kilburn, Dunstable, Norwich and Barking have each received £1,000 to help with the provision of food parcels for people without the funds to buy basic food and toiletries. A situation no induvial should endure says GMB London.
With current soaring living costs meaning a greater demand from people needing help from food banks, it is important that GMB supports communities as much as we support our members. GMB London Region and T.U.U.T Charitable Trust are proud to be supporting the invaluable work of the Trussell Trust, Fareshare and other organisations and community projects supplying meals, food parcels and advice.
Warren Kenny, GMB London Regional Secretary and a director of TUFM said:
"Food poverty is a shocking and disgraceful consequence of the Conservative Government's attack on employment rights and the decimation of the welfare benefits system. There wouldn't be a need for food banks if all working people earned decent pay and we had a Welfare Benefits System fit for purpose for those who cannot work.
"GMB London recognises the invaluable contribution offered by Food Banks and the volunteers who give their time to organise the distribution of food parcels and the delivery of specialist benefit and debt advice.
Jemma Watkeys, Operations Manager, Dunstable Foodbank said:
"Our volunteers have reported more families who are sharing that they are having to make the impossible choice between heating their house or buying food.
"We know that there's a huge amount of change that would need to happen for that to become a reality so we at Dunstable Foodbank will continue to provide food for those who can't afford the essentials and explore ways to support our clients beyond just food assistance.
"We are hugely grateful to you at GMB, along with others in the community, who help us to continue this through your support and donations."
End
Contact: Ida Clemo, GMB London Region Policy & Operations Officer 078 7940 7179
Dunstable Food Bank: Jemma Watkeys - Operations Manager, Alan Blake - Volunteer and Trudi Tew - GMB Steward for Central Bedfordshire
Ealing Food Bank: Dean Gilligan - GMB Ealing Branch and Janet Fletcher - Manager
Barking Food Bank: Obi Onyeabor - Founder and Chief Executive, Penny Robinson - GMB London Regional President & GMB Barking Branch Secretary and Jackie Oladimeji - volunteer.