GMB steps up campaign against academy status in Redbridge schools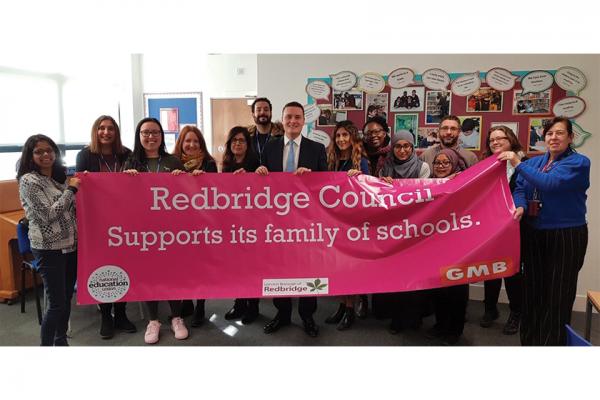 GMB, the union for school support staff, is organising a further meeting for parents and staff of St Beads in Chadwell Health for Friday 21st February 2020 to step up the campaign to change the status of the school to that of an academy.
There are negative consequences for pupils, parents and staff of the changes in status with parents having less input, less qualified teachers, and with staff pay and terms being cut all with adverse impacts on pupils says GMB.
This is part of the ongoing campaign against Academy status for Redbridge schools and follows a public meeting with parents on Thursday 30th January to get momentum into the campaign and get out information about what the changes in status actually means in practice for pupils, parents and staff at St Beads.
The details of the next public meeting are as follows:
Friday 21st February at 5-7.30pm,
50 Grove Road,
Romford
RM6 4AA
Speakers will include Sam Tarry MP for Ilford South and more information can be found on twitter, facebook, by email, and you can also sign the petition.
Madeline Daley, GMB Branch Secretary, said:
"The GMB meeting on 30 January was to give information to parents about what it means to have their school St Bead's change to Academy status.
"Parents attending told GMB that this information was very useful and clear and very different to the information from those promoting the change in status.
"There is a need to get parents and staff to understand the negative consequences for pupils, parents and staff of the changes in status. Parents will have less input, there may be less qualified teachers, staff pay, and terms can be cut all with adverse impacts on pupils.
"To ensure a continuous flow of information a WhatsApp group was established. This now has more than 100 parents on the group with the numbers growing all the time."
Sam Tarry MP for Ilford South, in a statement read out at the meeting on 30 January, said:
" I can't be with you tonight as I had hoped, and whether you are a parent, a teacher, a support staff worker or a pupil I want you to know you have my full support in standing against academisation of your school.
"Let me be really clear - I do not believe that academies are the best way forward for our schools, our pupils or our communities.

"Academies don't have to employ qualified teachers to teach your children, they can worsen the pay and conditions of staff, affecting children's learning negatively, whilst parents have less influence and say over the school.

"I was a school governor for a number of years at nearby warren school in Chadwell Heath. We fought a long and hard battle to stop the school becoming an academy. Sadly, we lost. And when we did, it felt like the door slammed on the community. The community reps, Councillors, and parents were no longer on the school governing board. We were shut out.

"The best place for our schools, and our pupils, is in the wider family of schools overseen by Redbridge Council. With real, Democratic, and accountable oversight.

"We cannot risk any loss of guarantees over Special Educational Needs, because academies lose automatic support from the local authority. We cannot risk funding cuts, impacting all schools, which often are less able to resist funding pressures as they have to fund redundancy costs themselves whilst maintained schools get this paid by the local authority.

"I went to a nearby voluntary aided comprehensive faith school - St Edwards - and I support the right of parents to send their children to schools that have a strong faith based ethos and ethic.

"But it is my firm belief, that this is best realised within the family of schools in Redbridge, and not through academisation."

Contact GMB London Press Office 07921 289880 for more information.