GMB support pickets against auction of social housing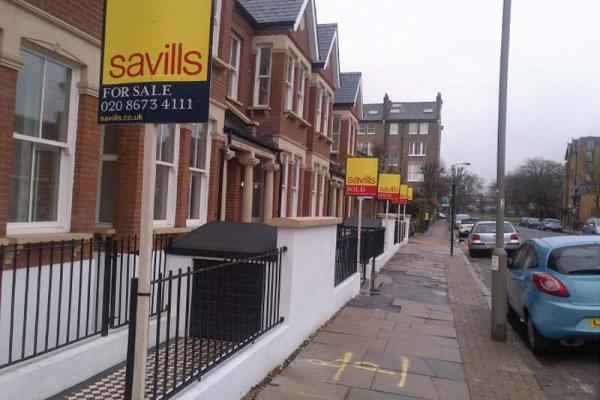 GMB London support pickets on February 14 & 19 against public auctions of London social housing after housing report shows 165,000 social homes lost since 2012
There are desperate families in bed and breakfast and other temporary accommodation who badly need these homes being sold at auction, says GMB London
GMB are supporting protests against two public auctions of mainly London social housing on Thursday 14 and Tuesday 19 February. At the first Allsop auction a total of 44 Housing Association homes are up for sale in Park Lane auction. The second Saville auction sees a further 18 Housing Association homes under the hammer in Mayfair. There is a third online auction selling a further 37 Housing Association homes. Homes for sale are in Westminster, Hackney, Tower Hamlets, Wandsworth, Lewisham, Haringey, Camden, Barnet, Croydon and East Sussex. [The full list of Housing Association homes for sale is set out in notes to editors]
A report from the Chartered Institute of Housing earlier this month showed that 165,000 social homes have been lost since 2012. This includes nearly 50,000 Housing Association homes. [See notes to editors for link to report]
Details of the pickets are as follows:
Allsop auction:
Thursday 14 February
9:00 AM
Intercontinental London Park Lane
One Hamilton Place
London
W1J 7QY
Savills auction:
Tuesday 19 February
10:00 AM
Marriott Hotel
Grosvenor Square
London
W1K 6JP
The Chartered Institute of Housing has predicted that loss of social housing will reach 199,000 by 2020. This makes it increasingly difficult for people on lower incomes to access a decent home at a price they can afford.
Funding for social rent, which tends to be around 30-40 per cent cheaper than market rent, was cut by the coalition government in 2010. Since then, funding has been targeted towards homes for 'affordable rent', which can be up to 80 per cent of market rents.
Warren Kenny, GMB Regional Secretary said:
"GMB London is calling for this sale of social housing to be stopped. GMB is calling for support for these protests.
"There are desperate families in bed and breakfast and other temporary accommodation who badly need these homes being sold at auction.
"What has happened to the consciences of Board members of Housing Associations and extremely well paid senior managers of these organisations? Politicians like Sadiq Khan Mayor of London and the Labour Party Housing Shadow Housing Minister John Healy MP have to step into this issue and get a moratorium on sales as is being called for by the Chartered Institute of Housing."
ENDS
Contact: Vaughan West 07967 342197 or GMB London Region 07970 114762
Notes to Editors
1] Chartered Institute of Housing – 'More than 165,000 homes for social rent lost in just six years, new analysis reveals' (6 January)
http://www.cih.org/news-article/display/vpathDCR/templatedata/cih/news-article/data/More_than_165000_homes_for_social_rent_lost_in_just_six_years_new_analysis_reveals
2] List of social houses up for auction:
Allsop property auction
Lot 9) 120 Chevening Road, NW6 6TP (Single Homelesss Project) 1 bed (f)
16) 42 Sedgemoor Place, SE5 7SE (Hexagon) 2 bed (j)
27) 60 Brentmead Place, NWE11 9LJ (TfL) 3 bed (e)
34) 19a Orsett Terrace, W2 6AJ (WCC) studio (k)
44) 99 Gore Road, E9 7HW (Peabody) 4 bed (p)
47) 162a Ashmore Road, W9 3DE (WCC) 1 bed (k)
48) 62 Brentmead Place, NW1 9LJ (TfL) 3 bed (e)
63) 55 St Pancras, West Sussex, PO19 7LT 2 bed (t)
72) 66 Brentmead Place, NW11 9LJ (TfL) 3 bed (e)
79) 205b Gloucester Terrace, W2 6HX (WCC) 2 bed (k)
83) 31 Common View, Stedham, West Sussex, GU29 0NX 2 bed (t)
91) 39 Buchan Road, SE15 3HQ (vendor using Guardians) 3 bed (f)
94) 54 Heathfield Gardens, NW11 9JA (TfL) 4 bed (e)
97) 36d Wallerton Road, W9 3PL (WCC) 1 bed (k)
102) 2 St Richards Cott, Easebourne St, GU29 0BD (Hyde) 3 bed (t)
107) 139 Endlesham Road, SW12 8JN (Wandle) 2 bed+1 bed+studio (d)
108) 294a Old Ford Road, E3 5SP (Peabody) 1 bed (p)
113) 29 Cleve Way, West Sussex, RH14 9RW (Hyde) 2 bed (t)
123) 4 Duck Lane, West Sussex, GU29 9DE 1 bed (t)
129) 181 Parchmore Road, Thornton Heath, CR7 8HD 3 bed (c)
132) 113 a/b Cadogan Terrace, E9 5HP 1 bed + 2 bed (a)
133) Fl 4, The Villas, 147 Gresham Road, Surrey, TW18 2AG 1 bed (f)
149) 71 Brightfield Road, SE12 8QE (Peabody) 2 bed (p)
154) 10 Monbretia Close, St Mary Cray, BR5 3TL (Wandle?) 3 bed (d)
164) 1 Cutforth Road, Herts, CM21 9EA 3 bed (c)
171) 8 St Johns Ct, Church Road, TW20 9QA 1 bed (h)
173) 46 Widford Road, Hunsdon, SG12 8NW 3 bed (c)
178) 14 Springdale Road, N16 9NS (Family Mosaic) 2 bed (p)
187b) 75 Charles Avenue, PO19 7HE 3 bed (c)
196) 231 Queenstown Road, SW8 3QD (Peabody) 4 bed (p)
197) 44 Old Mead Road, Wick, BN17 7PU 3 bed (t)
217) 67 Tyneham Road, SW11 5XQ (Peabody) 2 bed (p)
218) 5 Swallowtail Road, RH12 5YD (Hyde) 1 bed (t)
225) 4 Smallcroft Close, BN17 5QZ (Hyde) 2 bed (t)
228) 1st fl, 6 Church Rd, St Leonards, TN37 6EF 1 bed (o)
232) 19 Swallowtail Road, RH12 5YD (Hyde) 1 bed (t)
252) Somerset Gdns, Creighton Rd, N17 8JY (Peabody) 1 bed (p)
257) 76 Russell St, Peterborough, PE1 2EU 3 bed (t)
260) 3 Sandford Cres, Newport, TF10 7QW(Wrekin Housing Trust) 2 bed (x)
261) 19a Chatterton Road, N4 2EA (Family Mosaic) 2 bed (p)
267) 18 Deerleap, Bretton, PE3 9YA (Hyde) studio (t)
268) 119 Sandiford Cr, Newport, TF10 7QP (Wrekin Housing Trust) 2 bed (x)
274) 109 Sandiford Cr, Newport, TF10 7QP (Wrekin Housing Trust) 2 bed (x)
289) 9 Mewburn, Peterborough, PE3 8SG 3 bed (t)
Savills property auction
Lot 1) 14b St Pauls Road, N1 2QN (Peabody) 1 bed
2) 36a Dorothy Road, SW11 2JP (Wandsworth Council) 1 bed
13) 28 Blackthorn Drive, Aylesford, ME20 6NR 3 bed
14) 1 Green Lane, Trottiscliffe, ME19 5DX 4 rooms
18) 78a Penge Road, SE20 7UL (Peabody) 2 bed
19) 6b Crowland Road, N15 6UT (Peabody) 3 bed
29) 74 Tollington Park, N4 3RA 12 rooms
35) Rowlands Manor, Orpington, BR5 4AD 6x2 bed
39) 42a Church Road, Mitcham, CR4 3BU (DLR) # 4 bed
42) 210-212 Deptford High Street, SE8 3PR 4x1 bed+1x2 bed
43) 6 Ponsonby Terrace, Millbank Estate,SW1P 4QA (Peabody) 4 bed
44) 1 Ponsonby Terrace, Millbank Estate, SW1P 4PZ (Peabody) 3 bed
66) 7 Spring Grove, Mitcham, CR4 2NN (Peabody) 3 bed
79) 115 St Georges Road, Preston, PR1 1PR 1 bed
82) 46 Long Horse Croft, Saffron Walden, CB11 4BJ 3 bed
89) 23/23a Ridsdale Road, Penge, SE20 8AE 3 rooms+
90) 8 Blondell Road, Luton, LU3 1SH 3 bed
91) 10 Links Way, Beckenham, BR3 3DQ 2 bed
BIDX1 digital property auction
Lot 2) 32 Raleigh Road, Penge, SE20 7JB (Wandle) 2 bed (d)
3) 5b Lordship Park, Stoke Newington, N16 5UE (Family Mosaic) 1 bed (p)
5) 87a Gosberton Road, Balham, SW12 8LG (Wandle) 1 bed (d)
7) 8 Forest Edge, Buckhurst Hill, IG9 5AA (MOPAC) 3 bed (m)
8) 21a Balham Park Road, SW12 8DT (Wandle?) 1 bed (d)
10) 17 Robinson Road, Hackney, E2 9LX (Peabody) 2 bed (p)
11) 59 Endlesham Road, SW12 8JY (Wandsworth Council) 3 bed (s)
12) 1 Addington Rd, Croydon, CR2 8RE (Dio Southwark)3x1 bed/2x1 bed (w)
13) 77 Smyrlls Road, Walworth, SE17 2QWP (Family Mosaic) 3 bed (p)
14) 24 Allder Way, South Croydon, CR2 6JX 4 bed (d)
15) 19b Dallin Road, Plumstead, SE18 3NY (Hyde?) 1 bed (t)
23) 18 Boston Road, Croydon, CR0 3ED (Hyde) 4 bed (d)
30) 14 Lydon Hse, Dobson Rd, Crawley, RH11 7UQ studio (t)
34) 203a Queens Road, Peckham, SE15 2NG (Wandle) 3 bed (d)
35) 8 Peabody Estate, Lordship Lane, N17 7QT (Peabody) 3 bed (p)
37) 192 Gilders Road, Chessington, KT9 2EA (MOPAC) 3 bed (m)
41) Fl 4, 42 Moreton Road, Sth Croydon, CR2 7DL (Hyde) studio (t)
42) 13 Maurice Close, Kimbolton, PE28 0HD 2 bed (t)
43) 24 Khyber Road, Battersea, SW11 2P2 (Wandsworth Council) 2 bed (s)
44) 157 Kirkwood Road, Peckham, SE15 2BG (Southwark Council) 2 bed (i)
49) Fl 10, Clarson Ct, 48 Benhill Ave, SM1 4DA 2 bed (d)
55) 30 Ashmore Hse, Dobson Rd, Crawley, RH11 7UG studio (t)
56) 147 Waveney Road, St Ives, PE27 3FN 1 bed (t)
57) 45b Ashbourne Gr, East Dulwich, SE22 8RN (Southwark Council) 3 bed (i)
58) 31a Oberstein Road, Battersea, SW11 2AE (Wandsworth Council) 2 bed (s)
59) 26 Charminster Ave, Morden, SW9 3EL (MOPAC) 3 bed (m)
60) Fl 25, 9 Evancook Cl, Peckham, SE15 2HL (Wandle) 2 bed (d)
61) 99 Morton Way, Southgate, N14 7AN (MOPAC) 3 bed (m)
64) 199c Camberwell Gr, SE5 2HL (Southwark Council) 2 bed (i)
65) 116 Woodlands Road, Isleworth, TW7 6JY (MOPAC) 3 bed (m)
66) 47a Crowland Road, Tottenham, N15 6UL (Peabody) 1 bed (p)
67) 29 Ashmore Hse, Dobson Road, Crawley, RH11 7UG studio (t)
68) 37 Union Road, Northam, SO14 0PT 3 bed (t)
74) 29 Lydon Hse, Dobson Rd, Crawley, RH11 7UQ studio (t)
75) 46 Geoffrey Cr, Fareham, PO16 0QQ 3 bed (t)
81) 4 Gibbs Close, Southampton, SO45 3RR 2 bed (t)
85) 12 Fry Close, Rochester, ME3 0EE 3 bed (t)