Heathrow Expansion Supreme Court ruling - much needed good news if it gets the go-ahead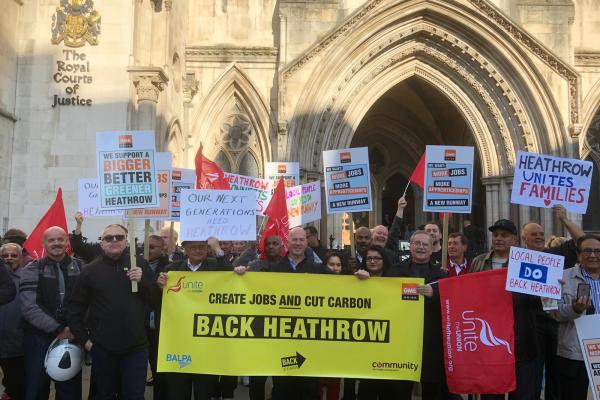 Judgement day as The Supreme Court announces their ruling on the Heathrow 3rd Runway appeal Wednesday morning
Back in February the Court of Appeal found the government decision to allow the plans to go ahead was unlawful. At the time the court said the government had not taken its climate commitments into account, but Heathrow said it would appeal. The Supreme Court has now given permission for an appeal to go ahead.
GMB London Region supports the appeal as this project will see a much-needed boost to a struggling economy and create tens of thousands of new jobs
The GMB, along with Back Heathrow, will have presence at The Supreme Court ruling in support of the Heathrow 3rd runway expansion.
Parmjit Dhanda, Executive Director of Back Heathrow said:
"The Supreme Court judgement comes at a crunch time for the UK's struggling economy. The go-ahead for a new runway will give hope for new jobs and a post Covid recovery. Else we face the loss of much needed trading opportunities, at a time of growing Brexit uncertainty.
"The CBI, the TUC and over 100,000 local residents have been campaigning for a new runway for many years, with the backing of a 296-vote majority in Parliament. It's time to get on and build it, and meet our climate reduction targets too."
Gavin Davies, GMB London Region Senior Organiser said:
"We have to boost consumer confidence. This project will see billions of pounds pumped into the UK's economy whilst ensuring that environmental green legislation and commitments are adhered too.
This will then act as a major confidence boost and create new jobs, at a time when the aviation sector has hit rock bottom. This is what is needed to aid the takeoff. GMB members have been at the sharp end of the hits to the aviation sector and this will be much needed good news if it gets the go-ahead."
End
Contact: Gavin Davies, GMB London Region Senior Organiser 079 3098 3376
Editors notes:
Press release 07.10.2020
GMB London - GMB London supports Heathrow expansion to help kick start the economy
Press release 20.06.2020
GMB London - Government's infrastructure plans a missed opportunity for aviation
Press release 27.02.2020
GMB London - GMB London calls for law change to allow Heathrow expansion
Press release 16.10.2019
GMB London - GMB support Heathrow Airport expansion on eve of Appeal Court proceedings
Press release 26.06.2018
GMB London - GMB welcome result of Commons vote as 3rd runway at Heathrow is backed by MPs