GMB welcome result of Commons vote as 3rd runway at Heathrow is backed by MPs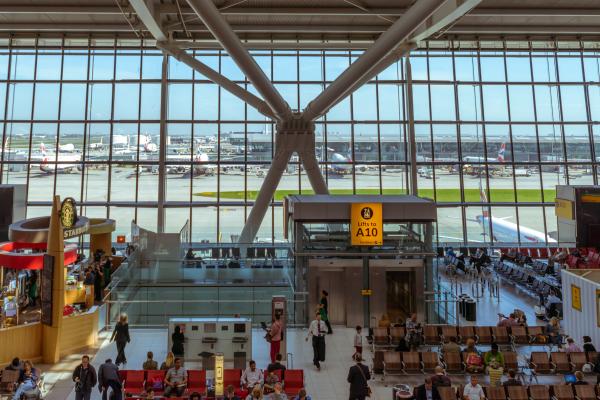 GMB welcome result of vote as plans for Heathrow Airport 3rd runway are supported by House of Commons
Increasing capacity with the expansion at the airport will be a major boost for the rest of the UK, says GMB London
GMB, the union for airport staff, have welcomed the result of a vote in the House of Commons which saw MPs vote in support of Heathrow expansion and the building of a 3rd runway, by a majority of 296. [See notes to editors for previous press release]
A 3rd runway at Heathrow is set to create 180,000 new jobs in the aviation, aerospace, construction and steel industries; doubling the number of apprenticeships to 10,000; and bring in £187 billion in economic benefits.
MPs voted in favour of a 3rd runway with a result of 415 votes to 119.
Perry Phillips, GMB Regional Officer for Aviation at Heathrow said:
"GMB Union London Region welcomes the news that the House of Commons in Parliament has voted overwhelmingly in favour to back a third runway at Heathrow.
"This vote will see Heathrow Airport deliver more jobs, skills, apprenticeships and prosperity to the local area in West London. Increasing capacity with the expansion at the airport will also be a major boost for the rest of the UK.
"It is also important to point out that existing Heathrow workers, many of whom work for the supply chain, should also benefit from this decision by being paid a decent and fair wage and better terms and conditions of employment as they deliver a first class service to passengers at Heathrow. Now is the time to get on with it and get it built."
ENDS
Contact: Perry Phillips 07912 293 481 or GMB London Press Office 07970 114 762
Notes to Editors
Previous GMB Press releases
GMB call on MPs to vote for Heathrow 3rd runway prior to parliamentary vote (25 Jun 2018)
https://www.gmblondon.org.uk/news/gmb-call-on-mps-to-vote-for-heathrow-third-runway
GMB send open letter to MPs to back third runway bid (11 May 2018)
https://www.gmblondon.org.uk/news/gmb-send-open-letter-to-mps-to-back-third-runway-bid
GMB welcome Parliament vote on 3rd Heathrow runway (23 March 2018)
https://www.gmblondon.org.uk/news/gmb-welcome-parliament-vote-on-3rd-heathrow-runway
GMB call on Heathrow Airport Holdings Ltd to stick to London Living Wage promises (26 Feb 2018)
https://www.gmblondon.org.uk/news/gmb-call-on-heathrow-airport-holdings-ltd-to-stick-to-london-living-wage-promises
GMB stress importance of getting on with third runway at Heathrow (17 January 2018)
https://www.gmblondon.org.uk/news/gmb-stress-importance-of-getting-on-with-third-runway-at-heathrow
GMB London call for consultation to be final round in go ahead for Heathrow 3rd runway (2 February 2017)
https://www.gmblondon.org.uk/news/gmb-london-call-for-consultation-to-be-final-round-in-go-ahead-for-heathrow-3rd-runway